News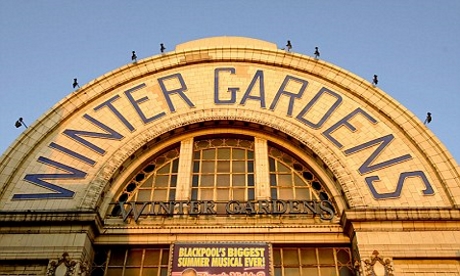 Published on January 25th, 2019
North West Regional Championships Line Ups Announced
Seventy five bands in three halls all on one day it can only be the North West Regional Championships at the Winter Gardens Blackpool!
The first of he Regional Championships is set for Sunday 24th February gives people the chance to hear bands across all five sections all under one roof. The unique nature of the day means that for the small price of £10 visitors get to listen to bands of their choice from the National Champions through to the smallest of village bands.
The Newly appointed North West Regional Secretary, Richard Milton, told A4B: "the committee is delighted that the number of bands entered has maintained this year and that we can still accommodate all bands on one day, it makes for an exciting opportunity to listen not only your local band but also some of the best bands in the country including three current national champions!"
There has been a change made to the adjudicating panel since it was previously published, due to an extension of his commitments in the United States at the College Band Directors National Association conference, Tom Davoren is now unavailable but Sheona White has kindly stepped in to replace him. Sheona was already preparing to judge the Championship Section in Scotland so when she said she was available and accepted the invitation I was delighted."
The day starts at 8:20 a.m. when the doors will open to the public, tickets will be available on the day although bands have been given the option to purchase them in advance for their supporters to avoid the queue at the box office. The  contest itself begins at 9:45 a.m. with the 2nd Section and the event will be over by 7:45 p.m.
The full list of entries for the contest are as follows:-
Championship Section
The Opera House
Adjudicators: Howard Evans and Sheona White
Draw 1:30pm
Commences after the results of the 2nd Section
Ashton-Under Lyne (Philip Chalk)
Fairy (Garry Cutt)
Foden's (Russell Gray)
Freckleton (John Pearson)
Leyland (Thomas Wyss)
Milnrow ((Dennis Hadfield)
Oldham (Lees) (John Collins)
Pemberton Old Wigan DW (Ben Dixon)
TCTC Group (Jef Sparkes)
VBS Poynton (Stig Maersk)
Wardle Anderson Brass (Sean Conway)
Wingates (Paul Andrews)
First Section
The Empress Ballroom
Adjudicators: Leigh Baker and John Doyle
Split Draw 9:15 a.m. and 11.15 a.m.
Commences 10:15 a.m.
Blackburn & Darwen (Daniel Thomas)
Boarshurst Silver (James Garlick)
Cheshire Constabulary (David Woollam)
Crewe Brass (Matt Pithers)
Diggle (Alan Widdop)
Eccles Borough (Mareika Gray)
Flixton (Matthew Ryan)
Haslingden & Helmshore (John Binns)
Haydock (Mark Quinn)
Longridge (Mark Peacock)
Manx Concert Brass (Ian Clague MBE)
Middleton (Kevin Gibbs)
Mossley (Duncan Byers)
Rainford (Gareth Brindle)
Roberts Bakery (Paul Lovatt-Cooper)
Silk Brass (Tony Wyatt)
Second Section
The Opera House
Adjudicators: Derek Broadbent and Brian Rostron
Split Draw 8:45 a.m. and 10:45 a.m.
Commences 9:45 a.m.
Allerton Brass (Adam D.J. Taylor)
Besses Boys (James Holt)
Besses o' th' Barn (Trevor Halliwell)
Blackpool Brass (Len Charnock)
Bollington Brass (Peter Christian)
Delph (Philip Goodwin)
Eagley (Chris Wormald)
Farnworth & Walkden (Luke Pallister)
Formby (Louise Hough MBE)
Greenfield (Patrick Marshall)
Hazel Grove (Nigel Beasley)
Marple (Stephen Curtis)
Old Hall Brass (John North)
Pemberton Old Wigan DW "B" (Mike Golding)
Poulton-Le-Fylde (Alex Webb)
Rivington & Adlington (Malcolm Wilson)
Tyldesley (Robert Taylor)
Third Section
The Pavilion Theatre
Adjudicators: Ian Brownbill and Sarah Groarke-Booth
Split Draw 10:00 a.m. and 12:15 p.m.
Commences 11:00 a.m.
City of Chester (Ewan Easton)
Darwen Brass (Mike Cotter)
Douglas Town (Ken Mitchell)
Eccleston Brass (John Wood)
Goldborne Brass (Jason Smith)
Greenall's (P.Boardman)
Hawk Green (Neil Hewson)
Hoover Bolton (Craig Mann)
Littleborough (Adrian Woodhead)
Lostock Hall Memorial (Joshua Hughes)
Parr St Helens (John Ludden)
Pilling Jubilee Silver (Steve Hartley)
Stalybridge Old (James Atkins)
Thornton Cleveleys (Stephen Craig)
Trinity Girls (Richard Evans)
Uppermill (Dean Redfern)
Valley Brass (Haydock) David Chadwick
Whitworth Vale & Healey (Chris Binns)
Fourth Section
The Empress Ballroom
Adjudicators: Jim Davies and Andrew Warriner
Draw 1:00 p.m.
Commences after the results of the First Section
Blackley (Adrian Smith)
BMP Europe Ltd. Goodshaw (Alan Seymour)
Brindle (Matthew Balson)
Cadishead Public (David Holland)
Dobcross Silver (Grenville Moore)
Dobcross Youth (M.Hindle)
Ramsey Town (Robert Quane)
Red Admiral Brass (Stuart Barton)
Rode Hall Silver (Nigel Butler)
Sale Brass (John Anderson)
Skelmersdale Prize (Ben Coulson)
Stacksteads (Fred Bowler)