News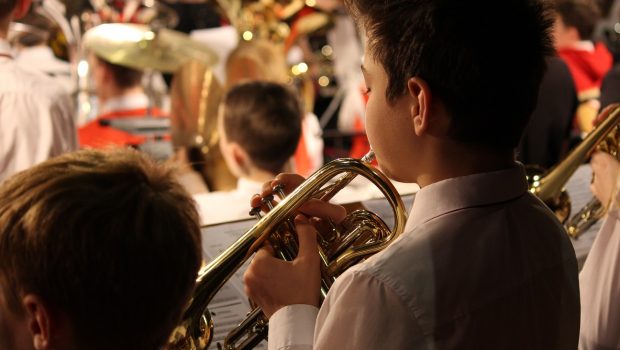 Published on February 20th, 2019
Halifax Youth Brass Festival Is A Blast!
The inaugural Youth Brass Festival was hailed a huge success. Five if the North's, junior, training and youth bands joined forces in the spectacular setting of Halifax Minster on Saturday 9th event.
Attracting an audience of around 200 parents and members of the public, everyone was treated to a feast of talent. With music ranging from space, to the circus and big band swing, there really was something for all to enjoy.
The event was a first for Halifax Minster and the Elland Silver Band. The atmosphere, was really wonderful, with all the young musicians enjoying performing in the spectacular setting of the Minster, but also being able to cheer each other on as they listened to other bands. We had lots of smiles and laughter amongst the bands, particularly in the massed bands, where all 180 musicians came together for the first time to rehearse under each bands Musical Director. The final performance was spectacular….especially the finale of "African Funk" arranged by Alan Fernie…..the whole audience joined in with clapping and finished in a standing ovation.
The event also welcomed volunteers from the charity Action Medical Research, who helped to steward the event alongside volunteers from the church and Elland Silver Band. The raffle proceeds raised £170 towards the charity.
Special guests included, the Mayor and Mayoress of Calderdale, Chris Harris, Deputy Lord Lieutenant, world famous cornet player James Shepherd and Derek Broadbent. The whole event was captured in pictures by young photography student Poppy McCabe.
We hope to repeat the event again in 2020, and are looking at commissioning a piece of music to be performed by the massed bands, and are also looking at incorporating FREE taster sessions for beginner musicians.
The event wouldn't have been possible without the support of the conductors, bands, parents and players, and most importantly the team of volunteers who chaperoned the bands alongside the volunteers from the Minster. We also thank Gavin Somerset, from Pennine Music who supplied music for bands to use in the massed bands.
We are hoping to attract some sponsors for next year, and would urge any interested parties to get in contact with the festival's organiser, Sam Harrison at [email protected].
The event could be a blue print for encouraging collaboration and development, outside the competitive environment.