News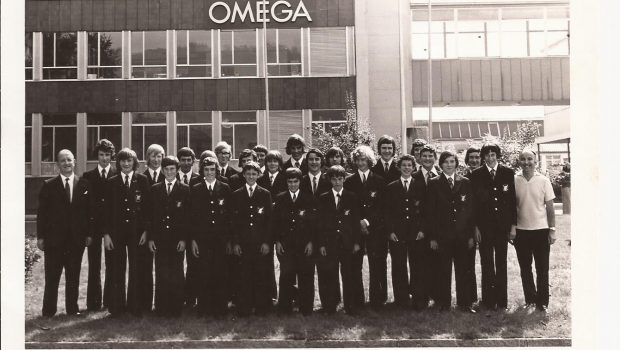 Published on March 4th, 2019
Oakmead School Brass Band Set For 60th Anniversary Reunion
A school brass band from Bournemouth that performed in front of King Olav of Norway, the Pope and on TV and Radio as well as entertaining AFC Bournemouth fans at Dean Court (AKA Vitality Stadium) in the 1960's will be celebrating its 60th anniversary in March.
The band was formed in 1959 at the Oakmead School for Boys in West Howe, Bournemouth by the school's head of music, Mr Courtney Bosanko, following an approach by a pupil, David Young. The band went on to become a leading school band in the country. In 1974 it won its class in the World Music Festival in Kerkrade, Holland. Being a boys' school, the band started life being exclusively male but girls were welcomed into the band following the school's merger with the Oakmead School for Girls in the 1980's.
Unfortunately, the band did not continue when the school became an academy in the 2000's. At a time when the lack of music tuition is in the spotlight, perhaps it is an opportune time to highlight that in the 1960's most Bournemouth secondary schools, no doubt like many other schools in Britain, had a brass band.
The school band clearly had an influence on pupils as a number of past players went on to have successful careers in military service bands or as professional civilian musicians. However, and more importantly, for many, the school brass band created a life-long passion for playing music at all levels that has continued through in to playing within brass bands today.
It is because of this life-long passion that was instilled from the school band that a reunion is taking place on the weekend of 30/31 March in Bournemouth.
One of the reunion organisers, John Grinnell, told A4B: "The great thing about the brass band set up is that it provides an opportunity for players to continue playing what ever standard they are, whatever age and often, where ever they end up living. Strong friendships are formed from the great shared experiences of being in a band and the regional and national contests are fabulous for meeting up with old acquaintances.
The Oakmead School Brass Band was the reason why a significant number of its players have continued to have a passion for brass banding with many having kept in touch. It therefore only seemed right to be celebrating the band's 60th anniversary of its formation with a reunion. This will not only be a social occasion but an opportunity for those that want to play, to perform a concert of familiar pieces played back in the day.
We would therefore love as many ex-Oakmead School Brass Band players as possible to come along and join us for the social and/or concert in what will be a fabulous reunion."
If anyone is interested in this event further details can be found on the Oakmead School Brass Band Facebook Page.