News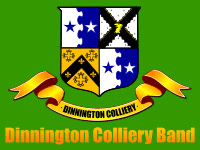 Published on May 1st, 2019
Caroline Avery Takes Dinnington Principal Chair
Dinnington Colliery brass band is an ensemble with a long and very proud history of strong talented women, and is particularly excited to announce the appointment of Caroline Avery as their new principal cornet.
Caroline Avery (known to her friends as Cal) brings a wealth of experience to the top seat of the band made famous in the television documentary "A Band for Britain", a very successful series of programmes that focused on (and made stars of) Dinnington Colliery Band, based in the ex mining town in South Yorkshire.
Caroline has recently been performing with the world famous Grimethorpe Colliery Band and the South Yorkshire Police Band to name but a few.
Dinnington are thrilled to herald the talented cornet player, who will now be spear heading the band into all the contests, concerts and other exciting projects the band has planned.
Musical Director Lee Dunkley told A4B:
"Here at Dinnington Colliery Band we do indeed have a wonderful reputation and long history of strong talented female musicians and we know that in Cal (Caroline Avery) we are incredibly fortunate to have secured such a talent to enhance both the band and it's important tradition of having women play in such prominent roles throughout the band".
Cal will lead the cornet section and band brilliantly, and both the band and their future audiences can look forward to her both as an exceptional ensemble player and as a very exciting soloist.
Records show Dinnington Colliery Band had their first female members way back in the 1950's and it's believed there were earlier female members. This is in great contrast to many British brass bands that were the sole domain of men for so many years, with some very prominent bands actually only having their first female members in very recent years!
This year sees the band celebrating ten years since the filming of "A Band for Britain" which  catapulted the ensemble into the living rooms of millions around the country and the band still boasts the patronage of the broadcaster and comedian Sue Perkins, who still serves as
the bands president.