News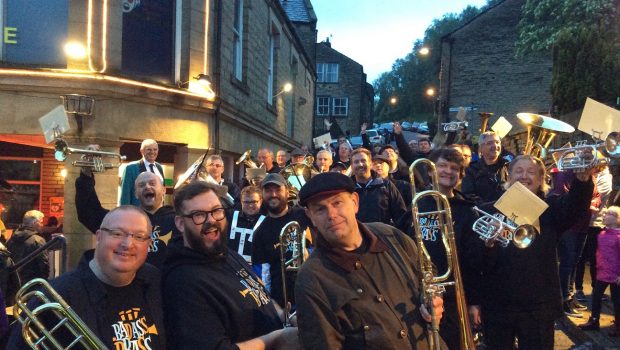 Published on June 10th, 2019
Bad Ass Brass Set For Whit Friday Return
Whit Friday scratch band, Bad Ass Brass, are set to make their sixth appearance in a row at this week's contests. With another brand new arrangement for 'march-down' from John Wilson Orchestra trombonist, Jon Stokes. It also means they will have played six different original and exclusive arrangements in as many years.
Just like in 2017, when the majority of their prize money went to charitable causes, they have followed suit with last's year's winnings too.
London trumpet player and the band's MD, Jim Lynch, told A4B: "We decided to help the youth and beginner groups right in the heart of Whit Friday country, In 2017, the prize money went nationwide across some ten different groups but last year we were able to offer larger sums to three ensembles in Saddleworth and Tameside."
The 2018 beneficiaries were Delph Youth Band, Diggle Trainer Band and the Mossley Hollins High School Brass Band.
Several players from Bad Ass Brass are busy London-based professionals, and the rest are experienced brass band musicians either unassigned or in bands that don't regularly participate in the event.  Many are also NYBB alumni. The 'local boys' in the band are Mike Poyser (tuba), from Rochdale, who is an alumnus of Wardle Academy, and Danny Marsden (cornet), who grew up playing at Oldham Music Centre.
Danny told A4B: "This will be my fourth Whit Friday with the band. I absolutely love this event and always try to keep the date free!"
Other well-known faces from the world of top banding to look out for in this year's band include Martin Britt, Scot Bennett, Josh Cirtina, Jonti Smith, Chris Binns, David Nesbitt-Rex, Shaun Crowther and Lynch's school band friend and fellow 'Sintelliner', George Barker.
The band say to say hello if you see them out there!