News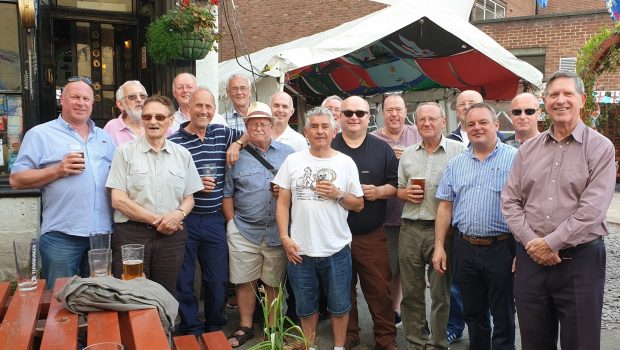 Published on June 10th, 2019
Sun Life Band Revisited
Nestled amongst the high-rise office buildings and state-of-the-art hotel complexes of the Templemeads area of Bristol lies the Cornubia public house. It particularly stands out from this urban sprawl because it is a virtually untouched Georgian building. It was a former wig-makers shop, but now, a fine establishment for former players and supporters of the Sun Life Stanshawe Band to meet.
On a fine Saturday afternoon (1st June 2019), over 20 old friends met to talk over old times and reaffirm long lasting friendships. There was a real buzz and constant chitter chatter from this small group throughout the whole afternoon. The sun warmly shone and great enjoyment was had by all. At an appropriate time, everyone was called to order, and the names of former players and conductors who are no-longer with us were read. This included the name of Tim Joint ("..a smashing lad") who died recently at the tragically early age of 52 years. All will be remembered by those present.
Image Above:-
Left to Right:  Ron Carr (Cornet), Martyn Coward (Cornet), John Noall (Cornet), Dave Williams (Horn), Kevin Ford (Horn), Bob Morgan (Cornet), Dave Alderman (Trombone), Shaun Mundy (Cornet), Ian Dickinson (Flugel), Andy Jackson (Cornet), Geoff Colmer (Bass), Paul Richards (Cornet), Ralph Rowden (Cornet), Jon Griffin (Cornet), Phil Randell (Horn), Phil Gregory (Horn), and Terry Jennings (Baritone).