News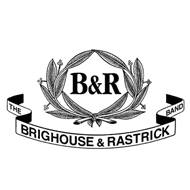 Published on July 30th, 2019
Two Star Signings at Brighouse & Rastrick
The Brighouse & Rastrick Band are delighted to announce the signings of Mike Cavanagh and Charlotte Horsfield on Solo Baritone and 2nd Trombone with immediate effect.
Mike Cavanagh joins following 5 1/2 years at Grimethorpe Band, and is a founding member of the renowned A4 Brass Quartet. Regarded as one of the movement's most talented baritone players, Mike is in huge demand as a player and soloist. The move will see him sitting next to his brother, the band chairman, Ste Cavanagh.
Commenting on his move, Mike told A4B: "The last 5 and a half years as a member of Grimethorpe Colliery Band have provided memories that will stay with me forever, from the tour to Australia and British Open win in 2015, to the first Brassed Off Live performance at the Royal Albert Hall in 2017, and throughout the whole time being able to perform across the UK surrounded by an excellent group of people and musicians. But I feel the time is right to move on and start a new chapter with another banding giant in Brighouse & Rastrick, where I am honoured to accept their invitation to become Solo Baritone. I am very much looking forward to starting with the band after the summer break and working with Professor David King in preparation for the British Open. I am also extremely looking forward to teaming up with my brother, Ste, to form the baritone section.
Lastly I'd like to thank everyone that I've played with at Grimethorpe Colliery Band during my time there and wish them all the very best under my former teacher Dr David Thornton."
Charlotte Horsfield joins on the vacant 2nd trombone seat, following the departure of Ellena Newton with the news of expecting a baby boy. Charlotte currently studies at the Royal Northern College of Music and joins following 18 months at The Fairey Band. Living locally, her family name is well known in Brighouse, with her Grandad, David Horsfield, being a past Principal Cornet player of the band.
Excited to continue the legacy, Charlotte told A4B: "I'm really pleased to accept the 2nd trombone seat at The Brighouse and Rastrick Band. It means a great deal for me; being my home town band and where my Grandad used to play. I'd like to give my thanks to The Fairey Band and especially Becky Lundberg, for all the support I have been given over the past 18 months, and I wish them all the best in the future. I'm now looking forward to the next step in my playing with Brighouse and to work with Professor David King."
Speaking on behalf of the band, Ryan Watkins told us: "We are absolutely delighted with the signings of Mike and Charlotte, both excellent musicians who will be fantastic additions to the Brighouse team."