News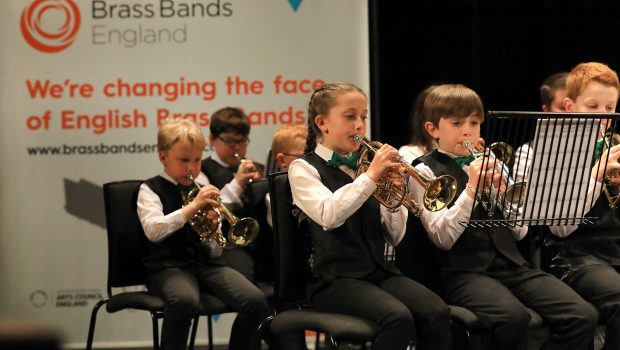 Published on October 26th, 2019
National Youth Championships Open With Focus On Participation
Brass Bands England is pleased to open applications to bands wishing to compete at the National Youth Brass Band Championships of Great Britain on Saturday 28 March 2020. Next year's event will take place at Magna Science Adventure Centre in Rotherham, five miles from Sheffield City Centre.
The Youth Champs is one of the UK's largest youth music events, with around 1,300 children expected to take part in a single day of music making and fun. After the successful introduction of a refreshed format for 2019, the event will return with almost unchanged rules except in the non-competitive Debut Section, which will now have no restriction on age (other than the event maximum of 18 years) and relaxed rules about ensemble structure.
The Debut Section was introduced to provide a platform for new players to get their first experience of performing in a brass band contest away from the pressures of competition, whilst still receiving feedback from an experienced adjudicator. In keeping with the Championships' aim of widening participation, it has been decided to expand access to this section to youth of all ages, ensuring that everyone can have an accessible point of entry to brass band competition.
Application Information
Full details for competing bands can be found at bbe.org.uk, including links to the information pack, rules and entry form. Bands should register and pay their entry fee on the website to secure a place in the competition. All applications will be dealt strictly on a 'first come, first served' basis. Please note that, due to limitations on the number of bands we can accommodate, some applications may be unsuccessful. In this instance, bands will be placed on a reserve list. For this reason, we encourage bands to get their applications in quickly to avoid disappointment as we expect a high turnout at next year's event.
Entries to the Championship, Intermediate and Elementary sections cost £50 per band, with the addition of a £1 per player fee payable closer to the contest. Entry for the Debut Section will cost £40. BBE has also provided added support for its members bands by lowering their entry fees by £25.
Speaking on behalf of Brass Bands England, contest organiser Alex Parker told A4B: "It was clear from our feedback that the introduction of the Debut Section last year was one of the biggest successes of the revised structure, with many comments being made about the vibrancy of the performances and the wide diversity of those taking part. However, it was also clear that many other groups wanted to take part but were restricted by age. We have therefore decided to open up the section to allow any youth group who wants to come and show off their talents. We hope this will encourage schools and music hubs that begin teaching at secondary school the option to be involved in the biggest youth brass extravaganza in the country!"
Alex Parker added: "We are really excited to bring the Youth Champs to South Yorkshire for the first time and hope to create a memorable contest for this year's competitors. The facilities at the Magna Centre are fantastic and make an exciting performance space. Travel links are also excellent, with the venue being just off the M1 and with a nearby railway station. We hope to continue to support the development of young players as they build a passion for banding that can last a lifetime at one of the most exciting events of the year."
Other sections taking place on the day and age limits are:
Debut Section (18 and under):
The aim of the Debut Section is to enable beginners to receive their first experience of public performance. All performers in this section should have a positive experience so to encourage them to continue to progress on their instrument. In this section bands will play an own-choice programme not exceeding ten minutes playing time.
Elementary Section (14 and under):
This section aims to give young people their first experience of competitive performance. Participating bands will be given the freedom to select their own choice of music to promote flexible teaching and suitable repertoire for performance at this level. Bands will perform an own-choice programme, not exceeding 15 minutes, which must include one original piece of music for brass band and two verses of a hymn from 120 Hymn Tunes for Brass Bands (the 'Red' hymn book).
Intermediate Section (16 and under):
The Intermediate Section aims to introduce young people to the concept of assessment on original brass band music, in preparation for advancement to performing set test-pieces in future years. Bands will perform an own-choice programme not exceeding 20 minutes, which must include an original brass band work of at least seven minutes' duration.
Championship Section (18 and under):
The aim of the Championship Section is for young people to perform together at a high standard and provide the final step through the doorway to adult banding. All of the players in this section will be young people still in formal education. Those over 18 years of age but who are still studying within the formal education system (i.e. at Sixth Form College or similar) can seek clearance take part in the event. This can be done by email to [email protected]. Bands will perform an own-choice programme not exceeding 20 minutes, which will include a set test-piece. The set test-piece for the Championship Section will be Saint-Saëns Variations by Philip Sparke.