News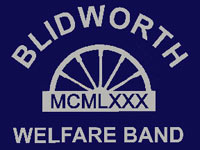 Published on October 29th, 2019
MD Simon Oates Leaves Blidworth Welfare Band
It's with great sadness that, due to work commitments, the relationship between Musical Director Simon Oates and the Blidworth Welfare Band has come to an end with immediate effect. The band would like to offer their heartfelt thanks to Simon for the commitment, dedication and hard work he has given the band during his tenure as MD, and for helping them gain a creditable 5th place in the Midlands Championship section for the last two consecutive years.
Commenting on his decision Simon Oates told A4B: "It has become increasingly difficult over the last year to schedule work appointments around band commitments, however on receiving a promotion at work which includes more time in London and international travel I realised that I would not be able to give the role of Musical Director the attention it deserves. The last two years at Blidworth has been fantastic. I wish them all the best going forward and thank each and every player over the last two years that have made my tenure with them so musically rewarding. Thank you".
The band will be advertising for an experienced, motivated and committed MD with immediate effect to help build on their recent success in the Midlands Championship section.