News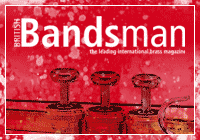 Published on October 31st, 2019
British Bandsman Announce New Editor
IBB Media Ltd, the owners of Brasspass TV and British Bandsman, magazine are delighted to announce Mark Good as the new Editor of British Bandsman magazine. Mark takes over the reins as the 14th Editor of British Bandsman, the world's oldest and longest running music magazine from Andrew Wainwright, who is departing the role to concentrate on his ever-expanding freelance role as a composer, arranger, graphic designer and writer.
Speaking of the new appointment, IBB Managing Director, Martin Gernon comments: "Andrew had probably one of the most difficult jobs in the history of the Bandsman – changing the magazine from print into digital and he has performed a wonderful job for us in doing just that and reinforcing the publication as the leader in the brass band field. We wish Andrew the very best in his new freelance career and know that he will succeed in whatever he does in the future.
He continues: "In choosing a successor, Mark Good was our first choice. Not only a trained journalist, but steeped in brass music as a player, conductor, writer and enthusiast. Technically, Mark is extremely savvy, editorially very astute, musically hugely experienced and makes a wonderful senior figure in our rapidly expanding team.
"The technological advances that IBB Media is bringing to the brass arena is game changing and the appointment of Mark to the key role of Editor in a digital marketplace is a wonderful appointment. Expect the magazine to become more internationally focussed, harder hitting, younger and where it is warranted, more controversial and outspoken on issues surrounding the brass marketplace globally."
Speaking of his appointment Mark Good was naturally delighted:  "I'm honoured to be named as the new Editor of British Bandsman and I look forward to building on the sterling work undertaken by Andrew Wainwright, who has done much to guide the iconic magazine into a new, digital era.
"There is so much to be proud of in our beloved movement and British Bandsman will champion these successes while remaining at the forefront of the debates and discussions which are crucial to ensuring the brass band world can look forward to a vibrant and exciting future."
This week's issue will be Andrew's last issue and following a week's break, Mark's first issue will be 14 November.