News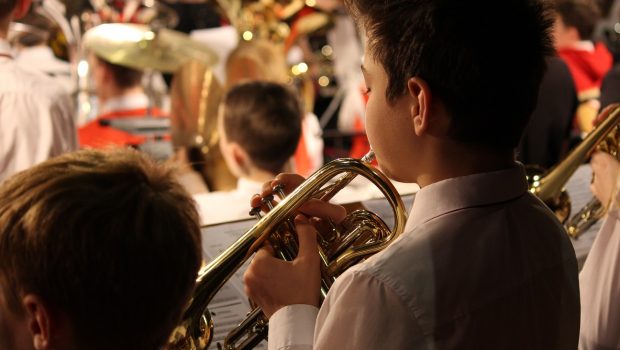 Published on February 18th, 2020
Halifax Youth Brass Festival Goes Down A Blast! 
Saturday 8th February saw Elland Silver Youth Band & Halifax Minster present the 2nd Halifax Youth Brass Festival. Five if the North's, junior, training and youth bands joined forces in the spectacular setting of Halifax Minster. The day also supported the charity Action Medical Research, with proceeds from the raffle being donated to the charity.  Special guests included, the Mayor and Mayoress of Calderdale, Chris Harris, Deputy Lord Lieutenant. News of the event also reached the Sunday Telegraph, which featured a stunning image of two members of Elland Silver Youth Band.
Attracting an audience of around 150 parents and members of the public, everyone was treated to a feast of talent. Each band presented a 20 minute programme covering repertoire from marches, pop music, film music original works. Perfectly selected by the bands Musical Directors to suit the young player's capabilities and interests and soloists.
The participating bands at this year's festival were;
Elland Silver Training Band
Dobcross Youth Band
Red Admiral Music Academy Youth Band
HD9 Community Brass
Elland Silver Youth Band
This is the second event organised Halifax Minster and the Elland Silver Band and it is hoped to be an annual event. The atmosphere, was really wonderful, with all the young musicians enjoying performing in the spectacular setting of the Minster, but also being able to cheer each other on as they listened to other bands. We had lots of smiles and laughter amongst the bands, particularly in the massed bands.
At the start of the day all 140 youngsters rehearsed the massed band items with each bands chosen item being led by their Musical Director. The young musicians were given a warm welcome from Samantha Harrison and encouraged to get to know each other. A few imperfections were quickly ironed out with the MD's offering encouragement and smiles, but the sound in rehearsal was fabulous.
The resulting final massed performance was spectacular, especially the finale of "YMCA" with the band and audience on their feet dancing. Everyone left smiling and happy with memories of a fantastic day of music making. With players, Musical Directors, chaperones & volunteers collaborating outside the competitive environment.
The event wouldn't have been possible without the support of the conductors, bands, parents and players, and most importantly the team of volunteers who chaperoned the bands alongside the volunteers from the Minster.
Samantha Harrison, festival organiser and Musical Director, Elland Silver Youth Band told A4B "Yesterday was a fantastic example of community music making at its best with all of the young people supporting and encouraging each other and making new friends. I would encourage more bands to find the opportunity to collaborate and learn from each other." 
We are hoping to attract some sponsors for next year and would urge any interested parties to get in contact with the festival's organiser, Sam Harrison at [email protected]talktalk.net.