News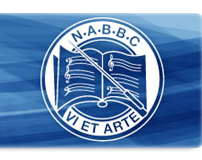 Published on February 20th, 2020
NABBC Opens Applications For 2020 Conductors Contest
The National Association of Brass Band Conductors (NABBC) has announced that, for the fifth year, it will once again be holding its National Conducting Competition, with the Final taking place on 13 June at Eccles Town Hall following the Association's Annual General Meeting.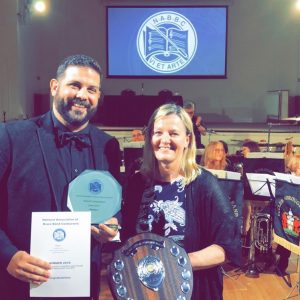 2019 winner: Craig Mckenzie
The winner of the competition will receive the chance to conduct a leading band, with the prize previously including a performance with world number one ranked brass band, Cory Band, and Foden's, in addition to receiving a year's free membership of the NABBC. Previous winners include Josh Geddes, Mark Edwards and Brendan Breslin, who have used the contest to launch careers in conducting.
The contest will take place in three rounds, the first round remotely with applicants invited to submit a conducting CV and video performance of themselves working with an ensemble. Applications are invited from conductors of all standards across the brass band world and beyond working with bands and groups at any level. Applications will be assessed by a panel of leading conductors. An example of a video of the type expected can be seen here and can be made by simply videoing your work with a band there is no need for editing or enhancements.
https://www.youtube.com/watch?v=_AHUsSYzxsQ
From the applications received, 12 semi-finalists will then be selected to perform one of two pieces – A Tale as yet Untold(Philip Sparke) andDynasty(Peter Graham) with Rainford Band at Eccles Town Hall, with six chosen to go through to the final round consisting of public rehearsal time and an evening concert with the Eccles Borough Band.
Each finalist will present and perform their piece during the first half of the concert. The adjudicators will deliberate on their decision during the second half while Eccles provides concert entertainment.
NABBC President, Russell Gray, commented: "I am delighted we are able to run this competition again. Every year it gets bigger and it has now become an important event internationally for emerging conductors. I would love to see more British brass band conductors stepping forward, so I encourage anyone interested to go ahead and enter. It's also a great way to network with other conductors and receive positive feedback from the professional panel of judges we engage."
Applicants must be over 18 and be an active conductor of an ensemble. It should be noted that there is no stipulation or requirement that their ensemble should be a brass band.
Successful applicants must provide their own scores for the first part of the final and make their own travel arrangements. They must also supply a short CV of their conducting experience, as well as provide a video (5-10 minutes) of them rehearsing or performing with an ensemble.
To enter round 1 applicants should go to this link https://www.bbe.org.uk/civicrm/event/info?reset=1&id=70where they will be able to apply and pay the Round 1 entry fee and be sent a link to upload both CV and video entry. Please note that entry to Round 1 of the contest costs £25 for NABBC members and £30 for non members, with a £100 balance payable for competitors who qualify for the Final round on 13 June 2020. To join the NABBC please visit https://www.bbe.org.uk/civicrm/contribute/transact?reset=1&id=10
The closing date for entries is Friday 24 April, with the 12 semi-finalists notified by 15 May
For more information please contact [email protected]