News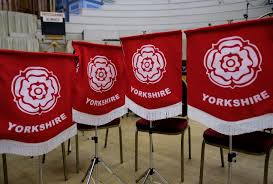 Published on February 25th, 2020
PREVIEWS & PREDICTION: Yorkshire Regional Championships 2020 – 3rd Section
THIRD SECTION – SUNDAY, 8th MARCH 2020
Test Piece:  Endurance by Andrew Baker
Adjudicators:  David Hirst and Steve Pritchard-Jones
DRAW:8.00 am COMMENCE:9:30 am
No. Band Conductor
1. Armthorpe Elmfield Raymond Kilcoyne
2. Clifton & Lightcliffe John Clay
3. Deepcar Brass Cathryn O'Shea
4. Dinnington Colliery Jonathan Beatty
5. Emley Brass Garry Hallas
6. Gawthorpe Brass '85 John Edward
7. Huddersfield & Ripponden Adam Bell
8. Kippax Stephen Tighe
9. Lofthouse 2000 Andrew Whitaker
10. Maltby Miners Welfare Terry Clifford
11. Oughtibridge Gavin Somerset
Armthorpe Elmfield
Promoted to the 3rd for last years regional contest, Raymond Kilcoyne will be looking to solidify the bands position in the 3rd section for a 3rd year and help them avoid the drop this time around. A top 8 finish would certainly help them achieve that.
Clifton & Lightcliffe
Experienced MD John Clay knows what he has to do to get the best out of his band and the music at this years Yorkshire regional contest. Relegated from the 2nd last year can an immediate return be possible? It is possible if other results go their way. Can they make their way to Cheltenham and win? Time will tell.
Deepcar Brass
Deeper will be hoping that they have a fantastic result here this time around. a 12 place finish here last year after promotion has left them fighting relegation this time around. A band with some experience and youth on their side, can they get the business done?
Dinnington Colliery
A band for britain was a while a go now…. infact it was 10 years ago. Sue Perkins still remains friends with the band, but will she be there to support them the day? Dinnington are 3rd in the table going into this regional contest and will be hoping a good finish can either send them to Cheltenham or gain them promotion after a 4th place finish last year. Now under experienced MD for a 2nd stint, Jonathan Beatty joins 10 years on from the first time he conducted after leaving them in 2015. Can he re inspire them and build on last years good performance?
Emley Brass
Having announced already that MD Garry Hallas will be leaving after the regional contest, can he and his team find one last touch of magic before they part ways? Currently looking good in 2nd position on the table a top 5 finish would see them promoted to the 2nd section. Surely the MD wants to go out on a high and qualify in 1st for the National Finals at Cheltenham? Emley had a good run at Butlins finishing 2nd in the 3rd section on Gothic Dances so will be looking to push on that momentum at this years Yorkshire regional.
Gawthorpe Brass '85'
Anther experienced MD, Gawthorpe were promoted to last years 3rd section and finished a credible 6th. They will be looking to build on that this year and either go to Cheltenham or hope other results go their way and try and sneak promotion after only 2 years in the 3rd section.
Huddersfield & Ripponden
A band that has gone from strength to strength the last few years. Promoted a few years ago to the 3rd and solidified themselves as a solid contender for this years contest. Sitting comfortably in the middle of the table, a good result would see them to Cheltenham or improve on climbing the table ready to push for promotion next year. They do have a good young conductor in Adam Bell who knows what to do to get the best out of his team.
Kippax
A band relegated to the 3rd section for last years contest, and instantly proved a point by winning it. Narrowly missed out on promotion, they went to Cheltenham and came in very commendable and respected 5th place. They also competed at YHBBA in the B section at Durham League Contest placing 1st in both contests. A band that will again be looking for more silverware this time out, especially with the very experienced and respected Stephen Tighe at the forefront of the band.
Lofthouse 2000
Unfortunately the band over the last couple of years haven't had much silverware other than a 3rd place finish in 2018 at Holme Valley Brass Band contest. Andrew Whitaker will certainly be looking to change the tide of the band as the last 2 years the band have finished in 5th and 8th at Yorkshire. A good result is needed here to make sure they don't fall lower down the league.
Maltby Miners Welfare
Terry Clifford will be looking to solidify and gain grounds on other bands in the 3rd section after being promoted for this years Yorkshire Regional Contest. Experience and form is on their side as they won the 4th last year, then went on to finish 4th in the Holme Valley section 'c' contest, they won at Whiston in Section C, finished a very commendable 7th at the National finals of Great Britain at Cheltenham, then went to Leicester Contest and placed 2nd there in the 4th Section and finally finishing in 3rd place at the NE midlands contest in February in the 3rd section. A band to watch out for at this years area.
Oughtibridge
A band that look to be on the up again in 2020 with a few signings ahead of this years regional contest. The Bands MD Gavin Somerset will be looking to build on the last couple of years as a good finish will be needed to avoid relegation this time around. They have had 3 3rd place finishes this last 12 month, Holme Valley, Shirebrook and YHBBA. Can they get another 3rd place or go better?
With 11 bands competing in this years Yorkshire Regional contest, West Yorkshire Police will not be competing.
Predictions
From the 11 bands, based on results alone, only one or two bands could claim the title but its certainly anybody's game on the day. 
We go for:
Kippax
Emley
Gawthorpe
Clifton & Lightcliffe
Maltby
Dinnington

 
Dark Horse: Huddersfield