News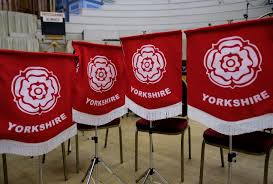 Published on February 25th, 2020
PREVIEWS & PREDICTION: Yorkshire Regional Championships 2020 – 4th Section
FOURTH SECTION   SATURDAY, 7th MARCH 2020
Test Piece: Neverland by Christopher Bond
Adjudicators:  Richard Marshall and Duncan Stubbs
DRAW:  7.45 am                                                            COMMENCE: 9.15 am
No. Band Conductor
1. Barnsley Metropolitan Alex Francis
2. Clifton & Lightcliffe 'B' Michael Silson
3. Dodworth Colliery M.W. Eliot J Darwin
4. Friendly Band (Sowerby Bridge)  James Beecham
5. Garforth Brass  John Thompson
6. Linthwaite Matthew Pilcher
7. Loxley Silver Richard Windle
8. Thurcroft Welfare Matthew Wright
Barnsley Metropolitan 
Relegated for last years 4th section and finished a credible 2nd here last year, qualifying for the national finals where they finished 14th out of 18 entries. They have a fantastic MD in cornet player Alex Francis, who has a wealth of experience under his belt. Can they go all the way to again Cheltenham this year?
Clifton & Lightcliffe 'B'
Relegated to the 4th section this year after finishing 11th in the 3rd section last time out. Now under a different MD for this years contest in Michael Wilson. Can this MD bring life to this band and bounce back with a trip to Cheltenham at the first time of asking?
Dodworth Colliery
A band relegated to the 4th section last year finishing a credible 4th. Dodworth have started the 2020 campaign with a winning trip to Butlins in the 4th section under the baton of MD Eliot J Darwin. Can this former top section principal stir a few feathers and rouse the band back up the grading tables to the former heights that the Dodworth name holds? Only time will tell.
Friendly Band (Sowerby Bridge)
A band that have been around the 4th section for a few years now tend to improve year on year. Hopefully for them, this year will do the same and see them move up the table and fight for a place at Cheltenham.
Garforth Brass
Since current MD John Thompson took over 2 years ago, the band have increased in strength and stature. Dominating the last 2 years in the 4th section with a 2nd place and 3rd place performance narrowly missing out on promotion and back to back visits to Cheltenham. The band, under the expertise and guidance from their illustrious MD John Thompson will be hoping to do better and winning this time around.
Linthwaite
Linthwaite are another band that have seen a few years in the 4th section. A change at the helm this year may turn the tide for the band and point them in the right direction, towards Cheltenham.
Loxley Silver
Loxley are looking to improve on last years 7th place and start climbing the table. A good result here this year would put them in good stead for either Cheltenham this year or promotion next year.  
Thurcroft Welfare
Thurcroft have had a couple of unlucky results the last couple of years in the 4th section and Young MD Matthew Wright will be looking to change that this time around with boosts to the ranks with former championship euphonium player Daniel Jackson joining the ranks on solo horn. Will this boost of experience help the band boost them up the grading table?
Only 8 bands will be competing this year at the Yorkshire Areas in the 4th section. Tingley Brass and Golcar not competing for the 2nd year in a row.
Prediction
Its going to be a close one we think at the top this year with any number of bands fighting it out for the trip to Cheltenham. With Garforth looking likely to be promoted with a top 5 finish. Who will be looking to join them (if they do) with promotion to the 3rd section and who will be going to Cheltenham?
We go for:
Garforth
Barnsley Metropolitan
Clifton & Lightcliffe
Dodworth Colliery
Dark Horse: Linthwaite