News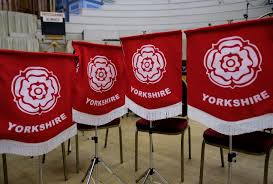 Published on February 26th, 2020
PREVIEWS & PREDICTION: Yorkshire Regional Championships 2020 – 2nd Section
SECOND  SECTION – SATURDAY,7th MARCH 2020
Test Piece:  The Golden Sabre by Kit Turnbull
Adjudicators:  David Hirst and Sarah Groarke-Booth
DRAW:11 am COMMENCE:12:30pm.approx
No. Band Conductor
1. Barnsley Brass William Rushworth
2. BD1 Brass Lee Skipsey
3. Dronfield Genquip Damian Wileman
4. Hade Edge Jamie Smith
5. Hebden Bridge David Hamilton
6. Meltham & Meltham Mills Tom Haslam
7. Rockingham Adam Whittle
8. Slaithwaite Matthew Hindle
9. Wetherby & District Silver Derek Warley
Barnsley Brass
Under the baton of Billy Rushworth Barnsley were promoted for last years 2nd section regional contest where they finished 9th. They have entered 2 other contests since the regionals last year where they placed 2nd at the NE Midlands Contests in February and 5th at the Yorkshire and Humberside BBA contest. they will need a good finish here this year to avoid the drop.
BD1
A band that under the leadership of Lee Skipsy has gone from strength to strength year on year with this fabulous group who we have all watched since they were young guns in the 4th section. A not as young band now, but with players who have developed over the last few years sees BD1 come off the back of 2 wins at Brass at the wire and the Yorkshire & Humberside  BBA contest. could this be BD1's year?
Dronfield Genquip
Under the baton of Damian Wileman, Dronfield will be looking to get back on form after finishing 8th here last year. Another band that will be fighting the drop this time around and will need to put in a good performance. they have entered 4 contests in the last 12 months since regionals. Two 1st place finishes at Denby and Derbyshire. An 8th at Bolsover and a 3rd in February at Yorkshire and Humberside BBA.
Hade Edge
A band that has entered no less than 6 contests since the contests here 12 months ago. 
Home Valley 1st, Meltham March Contest 6th, Brighouse March Contest 14th, Rochdale Contest 1st, Leicester Contest 5th and Butlins Mineworkers Contest 2nd. They have had 4 different conductors for those contests so Jamie Smith will be looking to pull out all the stops and carry on the momentum he had with them at Butlins. Top of the table going into this years regionals, will they be able to beat off opposition and remain there?
Hebden Bridge
David Hamilton has had some mixed results with Hebden Bridge over the years with 6th his best result with the band. You have to go back to 2016 to see when the band last won some silver where and that was at Butlins and Holme Valley with a 1st and 2nd. Relegated to the 2nd section this year, the band have the best opportunity to bounce straight back up into the 1st section. For them hopefully via Cheltenham on the way.
Meltham & Meltham Mills 
This will be Tom Haslam's 8th contest at the helm of the band achieving 2 2nd place finishes in that time all of which have been in the last 12 months, Holme Valley and Rochdale. They finished 6th here last year and are sitting in mid table and will be hoping to boost back up the table with a decent result at this years regional.
Rockingham
Promoted this year and a band that was on the brink of folding a few years ago but was revitalised under the youthful baton of Adam Whittle. The band were in the 4th section 4 years ago, now find them selves with the possibility of gaining promotion to the 1st section. Since the 3rd section area in 2018, where they finished 4th, the band have had three 3rd place finishes, two 5th (both in the 2nd Section or B section grading before they were even 2nd section) and one 2nd place finish at Leicester in November. Results speak for them selves, plenty of quality around the stands with this band and will be certainly one to watch. There is a lot of momentum coming from this band who do seem to be on the up. They will be looking to produce some magic this time around and qualify for Cheltenham.
Slaithwaite
Matt Hindle has taken over the baton this year at Slaithwaite. he took the band to Brass in the Wire back in January with a 3rd place finish. The band will be looking to improve on that this time around as a good finish could see them promoted to the 1st section. 7th here last year, 4th the year before, can the band turn around and secure that trip to Cheltenham? 
Wetherby & District Silver
Wetherby promoted to the 2nd section this year haven't done much contesting in the last 12 months. That being said, they have had a trip to Cheltenham where they finished 12th and a Brass Factor performance finishing 2nd. They again could be promoted at the first time of asking, but could also be looking to solidify there position in the 2nd section.
9 bands compete this year with Worsbrough Brass and Prospect Brass Skelmanthorpe both deciding not to compete.
Prediction
We think it will be close throughout the contest this year with any single band capable of putting on a performance.
We go for:
Hade Edge
Bd1
Hebden Bridge
Meltham and Meltham Mills
Dronfield
Barnsley Brass
Dark horse: Rockingham