News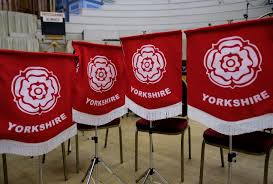 Published on March 5th, 2020
Preview & Predictions: Yorkshire Brass Band Regional Championships 2020 Championship Section
CHAMPIONSHIP SECTION – SUNDAY 8TH MARCH
Test Piece: A Tale as Yet Untold
Adjudicators: Nigel Boddice and Garry Cutt
Draw: 12.30pm Commence: 2.30pm
Black Dyke (Prof. Nicholas J Childs)
Brighouse & Rastrick (Dr. David King)
Carlton Main Frickley Colliery (Allan Withington)
City of Bradford (Lee Skipsey)
Crofton Silver (Dean Jones)
Drighlington (Neil Robinson)
Elland Silver (Daniel Brooks)
Grimethorpe Colliery (Dr. David Thornton)
Hammonds Saltaire (Morgan Griffiths)
Hatfield & Askern Colliery (Stanley Lippeatt)
Hepworth (Ryan Watkins)
Old Sikstone (WD)
Rothwell Temperance (David Roberts)
Skelmanthorpe (Martin Heartfield)
Strata Brass (Jonathan Bates)
Preview
With 15 bands competing in this years Championship Section, it's going to be an interesting and long evening indeed. The test piece this year, A Tale as Yet Untold, has already challenged bands over in the North West and Wales. With some of the banding world's elite on show, we really don't envy the adjudicators Nigel Boddice & Garry Cutt on this one.
Black Dyke and Brighouse & Rastrick have already pre-qualified to represent Yorkshire at the Albert Hall later this year. This being said, that doesn't mean they're likely to slack off and we're sure they will be pulling all the stops out for this years contest.
This year, Yorkshire has 2 places remaining at the National Finals in London. Grimethorpe Colliery, under their experienced conductor Dr. David Thornton, will be looking to claim the first of these spots. There's a wealth of experience around the stand, and with Adam Bokaris on Euphonium, that 2nd Movement should shine!
The likes of Carlton Main Frickley and Rothwell will have their eyes on the remaining qualification spot for London. Frickley are on excellent form at the moment, following their fantastic result at Brass in Concert and under the experienced Allan Withington, we're expecting great things!
Rothwell too will be giving it their all to grab that remaining spot, under the wings of David Roberts. Will they be able to overcome the technical challenges this piece holds? We think so…
A bit further down the list we get to Elland Silver, Hepworth, Hammonds Saltaire and City of Bradford. These 3 bands are all excellent in their own right, but will they be able to add that extra class this piece needs, and especially when competing against the Yorkshire Titans. Hepworth have had a slight personnel change from last years contest, so it will be interesting to see how this band performs with Ryan Watkins at the helm. Elland Silver, another band that's had a few players change here and there. Will it be enough to get them to the top?
The likes of Crofton Silver, Strata & Skelmanthorpe have had a brilliant last 12 months. Skelmanthorpe have won almost every contest they've entered following the Blackpool Grand Shield, and Crofton Silver recently won the Brass at the Guild contest on this very same piece. That being said, Strata Brass have the Foden's Tenor Horn playing Jonathon Bate leading them through this so we can guarantee that he will be building on Foden's success to ensure that Strata can put forward a brilliant rendition of the piece.
Recently promoted bands such as Drighlington & Hatfield will be doing all they can to solidify their position in the Yorkshire Championship section. This piece is so demanding, and bands that have only just been promoted may find it a tad daunting at first. Both on good form, can they build on this and make it into the top 6? Who can say for sure.
Prediction
The Yorkshire Regional Championships is arguably the hardest contest to play in. With the likes of Black Dyke, Grimethorpe and Brighouse, there's some stiff competition on show. However, with Black Dyke & Brighouse already pre-qualifying, there are 2 additional spots at the Albert Hall to take for the remaining bands. This test-piece is so musical, but so technical all at the same time. It's so hard to judge. Based purely on current form, we're going to go for:
Black Dyke
Brighouse & Rastrick
Carlton Main Frickley
Grimethorpe
Rothwell Temperance
Hepworth
Dark Horse: Elland Silver