News

Published on March 21st, 2020
A School With Hope For These Children Of The Future
In these current uncertain times, it's not just the main brass band community that is losing out due to the coronavirus, or Covid-19 as its officially called.
The wider brass band community and more, including children from Melsonby Methodist primary School are missing out and losing out too.
We at A4B have been reached out to by Holly Simpson who helps teach the children and she had this to say;
"The children at Melsonby Methodist Primary School have worked hard for a local competition, which sadly, has been cancelled.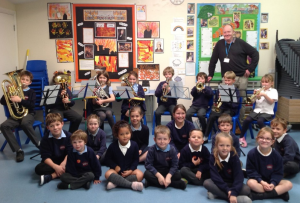 We have our own school brass band-nearly half the school attend the weekly after school rehearsals! When they were told we couldn't perform, all children were disappointed and several couldn't help but cry!
Please can the readers of All4Brass give these fantastic, 'up and coming' musicians the audience they deserve?
Their performance will lift your spirits, during these difficult times."
School Band
https://www.youtube.com/watch?v=Js4jYWNHdW0
School Choir
https://www.youtube.com/watch?v=p-SCGXsLqWw
We at A4b show our appreciation to these children and hope you all will too.