News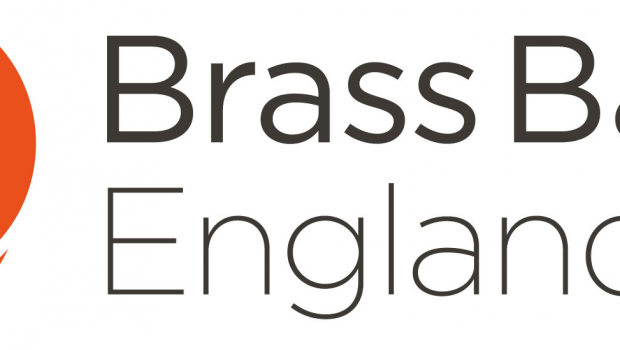 Published on January 18th, 2021
Brass Bands England Reveals New Appointments
Brass Bands England (BBE) has announced the successful candidates in its recent search for five Youth Development Brass Specialists, working as part of the organisation's new Brass Foundations education project. Sheila Allen, Paul Fisher, Paul McLaughlin, Helen Minshall and Deirdre Waller-Box were chosen from an outstanding field of applicants and across the next six months are available to provide assistance and guidance for bands in their areas, as well as actively forming new partnerships with cultural organisations, schools and Music Education Hubs.
BBE's Education and Development Manager, Sarah Baumann, commented: "The Brass Bands England team are delighted to be joined by the five new Youth Development Brass Specialists who come with a wealth of skill, experience and enthusiasm. Although we know that COVID-19 restrictions mean that face-to-face activity will not be possible immediately, the team will be actively delivering online activity and creating resources to support bands in their respective areas. We know that many Hubs have seen a reduction in uptake for brass tuition from schools, and so we feel this opportunity will be vital in ensuring young people continue to take up brass instruments and find their love of music within their local brass band."
These newly formed posts have been created thanks to the invaluable funding received as part of the Cultural Recovery Fund. The Brass Foundations project will also result in the creation of a peer network for youth band leaders across the country, with more information being made available in coming weeks.
Sarah continued: "We would like to encourage bands close to one of the post-holders to get in touch to find out how we can help. Whether you have a thriving youth band, have struggled to engage with young people throughout the last year or have aspirations to start a youth band, the team can assist and bring with them their experience and passion for young people playing brass!'
Any questions about the Brass Foundations project can be directed to BBE's Education and Development Manager Sarah Baumann on [email protected], or by contacting one of the Youth Development Brass Specialists in your local area.
Sheila Allen – [email protected] – Warwickshire
Paul Fisher – [email protected] – Hertfordshire
Paul McLaughlin – [email protected] – Gloucestershire
Helen Minshall – [email protected] – Manchester
Deirdre Waller-Box – [email protected] – London / Hertfordshire
Sheila Allen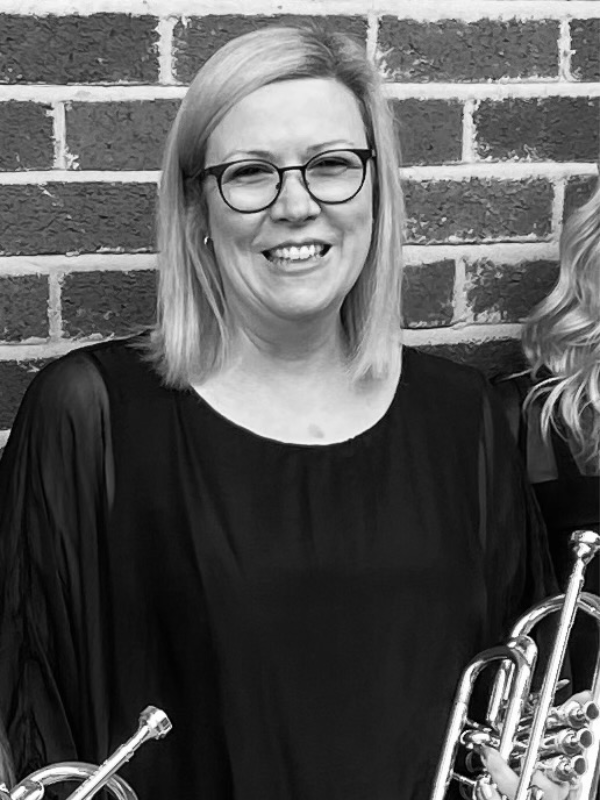 Sheila grew up in the heart of brass banding country in Yorkshire, learning to play the cornet (and the clarinet!) through the free provision offered at her middle school. After a family move to the midlands, she returned to her roots to study Music at Huddersfield as a student of Phillip McCann. On her return to the midlands she went on to build a successful private music teaching practice and later completed her Secondary Music Teaching Qualification, spending 14 years leading music, and later performing arts, in a local secondary school.
Now dividing her time between the classroom in a junior school and her private music teaching practice, her enthusiasm for being involved in brass bands at a variety of different levels continues. She is a member of the conducting team at the Ratby Band organisation, leading the beginners' band, and plays in the cornet section with Flowers Band. 
Paul Fisher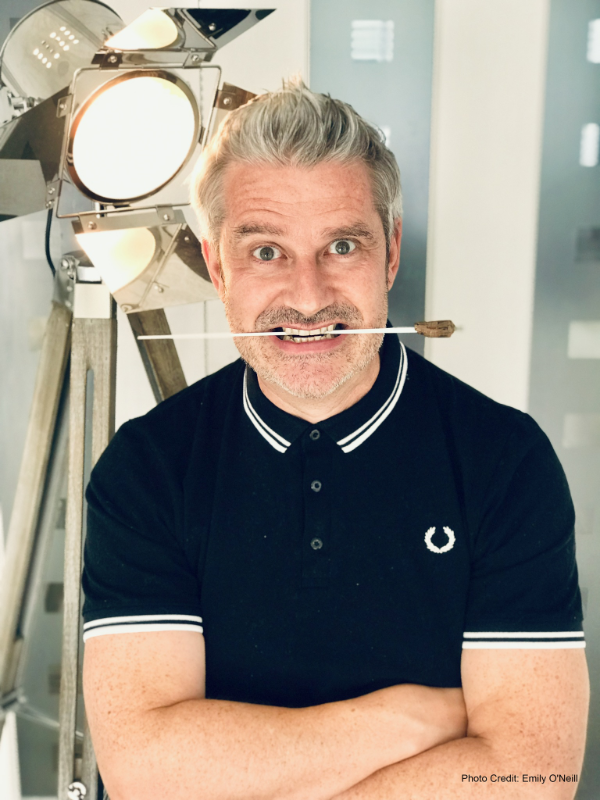 Paul is Lead Teacher in Brass for Hertfordshire Music Service and is also Principal Conductor of the Hertfordshire County Youth Brass – a role he has held since 2009.
As a music teacher in the primary school sector, Paul teaches brass to over 400 children every week on first access courses. He also runs a 35-strong brass band called BRASS ATTACK, which consists of 7-11 year olds, many of whom have been introduced to brass through the classroom scheme.
In 2014, Paul wrote the BAND-TIME teaching method for Conn Selmer UK with the aim of enthusing and inspiring children through the power of performance, music-making, singing and dancing.
Paul was appointed as Musical Director of Amersham Band in 2009. Since then, he has led the band in its promotion from the 4th Section of the brass banding world to Championship level, along the way qualifying for the National Finals on no fewer than six occasions. During this period the Amersham banding community has grown from one band to four bands, with over 100 members spanning across all age ranges and abilities, with one goal in mind – to have fun and enjoy making music!
Paul McLaughlin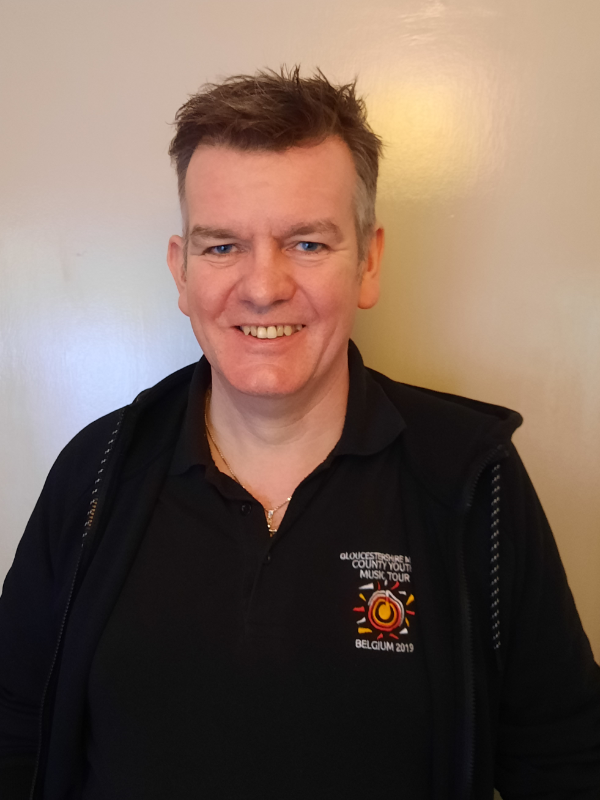 Paul McLaughlin is a freelance musician, teacher and conductor, originally from Dundee and now living in Stroud, Gloucestershire. He studied at Leeds College of Music and Newcastle University, and has spent much of his career combining playing in and directing ensembles, shows and projects with venue management in some prestigious theatres around the country. He currently plays BBb bass for Lydbrook Band, having spent time as bass player, percussionist and conductor with City of Discovery Brass in Dundee, Greggs Bakery Band in the NE, Fulham and Sandhurst Silver Band in LSC, Nailsworth and City of Bristol in SW. He works as a brass tutor and county music group leader for Gloucestershire Music, including Brookfield Music Centre. Paul is also the founder and Musical Director of the music collective The JP AllStars, which was born in 2015 following a conversation in a pub about what brass bands can and can't do. It seems that we can do an awful lot more than people think!
Helen Minshall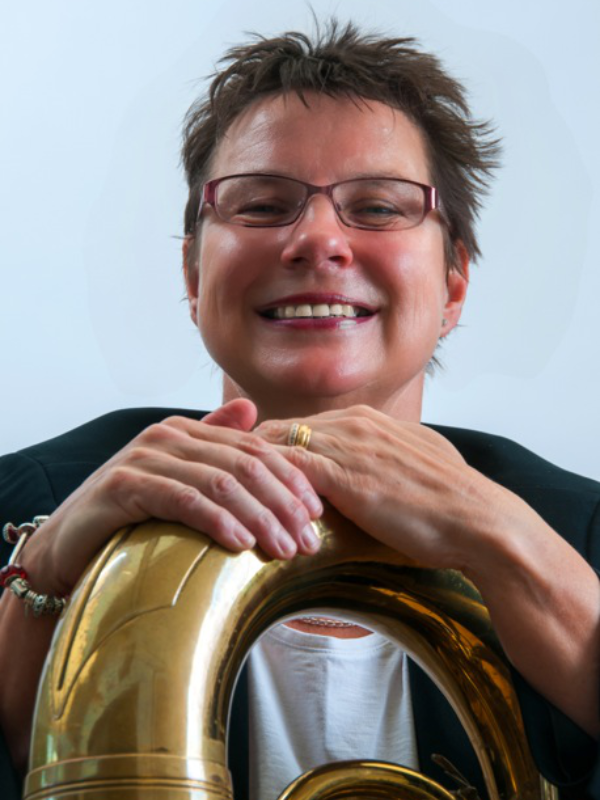 Helen Minshall has a vast amount of experience both as a performer and teacher. Over the last 30 years she has held teaching posts throughout the North West of England – in Wigan, Bury and Salford – and in 1988-89 she spent a year in the Sultanate of Oman, as Low Brass Tutor to the Royal Oman Symphony Orchestra. She has also worked as bass tutor for the National Children's Brass Band of Great Britain. After a successful 15 years as Head of Brass for Bolton Music Service, Helen is now pursuing a freelance career, and has set up a very successful music teaching company, Minshall Music Ltd., working with her daughter, Samantha, and son in law, Neil.
Helen and her husband Stephen started the highly successful Astley Youth Band in 1994, and currently there are three bands and a choir within the organisation, with over 100 members. Helen is currently Musical Director of Astley Unlimited Band, and also directs the Lancashire Youth Brass Band. She thoroughly enjoys working with all her bands and is committed to helping players of all ages to achieve their best.
Deirdre Waller-Box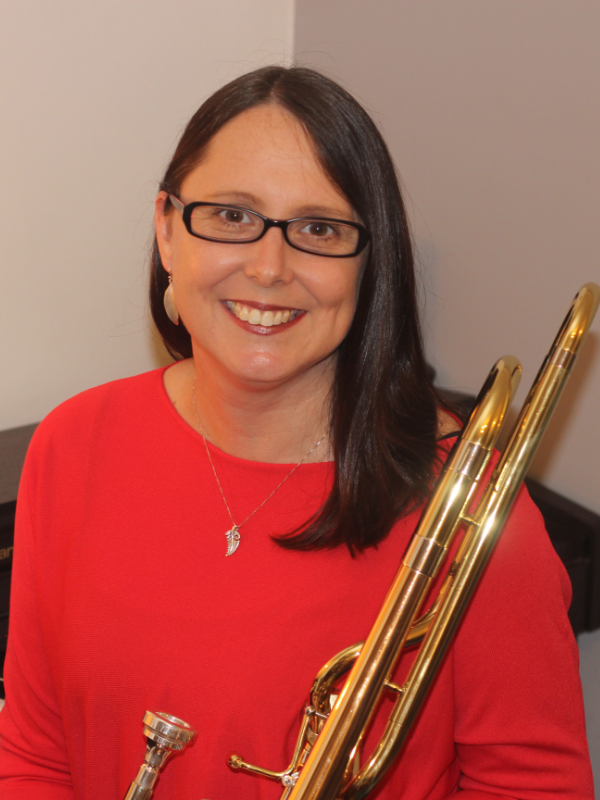 Originally from Dunedin, New Zealand, Deirdre studied trombone at the University of Otago. As a trombonist in NZ, Deirdre had the opportunity to travel extensively, playing trombone in many different ensembles from jazz and brass bands to orchestras and everything in between.
Since moving to the UK to further her travel adventures, Deirdre has led music departments in a number of primary schools. Her passion for brass playing and brass education has enabled her to play an instrumental role in establishing the whole class brass projects for the borough of Camden and she continues to lead and support across many of these exciting projects. As a conductor, Deirdre leads the Camden Concert and Camden Philharmonic bands.
In her spare time, Deirdre is an advocate for a great charity, WOWUK, as well as being involved in live streaming of the arts.