News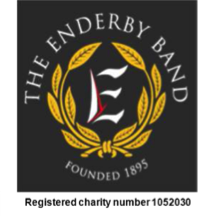 Published on July 6th, 2021
Ryan Richards To Step Down From Enderby
After a sustained period of success, Enderby Band confirm that they have regrettably accepted the resignation of their musical director, Ryan Richards.
The Band have enjoyed a successful three years under Ryan's guidance achieving 1st at Bolsover Festival of Brass and 2nd at Leicestershire Brass Band Association contests in 2018; 1st place at Shirebrook, 2nd at Bolsover Festival of Brass, 3rd in the first section and 6th in the championship section at Wychavon Festival of Brass in 2019; 3rd at the Welsh Open in 2020 (earning qualification to the Spring Festival).
Alongside this, there have been numerous concerts, including performing with the Leicestershire Rock Choir at the Charity Concert for Rainbows at a sold out De Montfort Hall in 2018 and Pack Up Your Troubles at Hinckley's Concordia Theatre. The highlight though was winning the 2019 first section Midlands Regional Brass Band Association contest, earning the band promotion, where in their first area contest in the championship section, came a very creditable 8th.
Ryan was instrumental in the last year during the Covid pandemic, inspiring the band during a very difficult time by arranging Q&A sessions with a variety of guest speakers. To be able to listen to and chat with those who are held in such high regard in the world of brass banding was an amazing experience.
Ryan Richards advised "My career has taken an upward turn in the last few weeks which I am really delighted and excited about, but sadly, that means I can't put the commitment in to giving the band what it deserves. In the last three years, I have experienced some of the best musical experiences I have so far, in concerts, contests and rehearsals. Everyone is so dedicated to everything they do for the Band and it makes engagements/rehearsals genuinely brilliant and enjoyable".
Band Chairman, Ian Hayto paid tribute to Ryan and his achievements with the Band and said "Obviously we are all gutted that Ryan is resigning but we have to accept and understand the reason. The last three years have been truly memorable in so many ways and Ryan has been absolutely key to everything we have done. Ryan has shown exceptional ability as a conductor but we will also miss him as a person. Everyone within the band and the wider Enderby Band Organisation hold him in the highest regard. We wish him well for all his future endeavours both in banding and also professionally".