News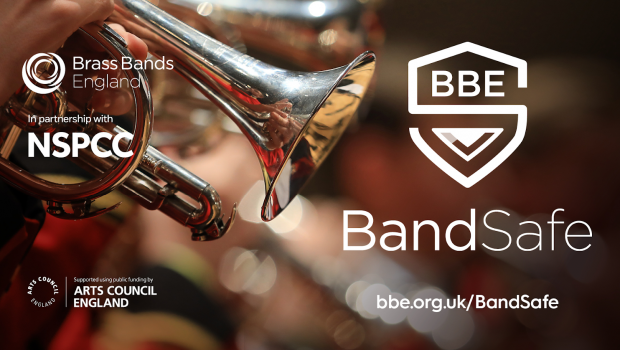 Published on October 26th, 2021
BandSafe programme gets an update
Brass Bands England's flagship safeguarding programme, BandSafe, has had a makeover, seeing a complete overhaul of the training programme and its accompanying suite of resources.
BandSafe is an industry leading selection of tools, training and guidance to help bands and music ensembles manage activity in a way that safeguards all group members from harm.
Working closely with BandSafe partners the NSPCC, new developments have been made in order to support bands with a safe and secure return to banding.
Created to help bands with all aspects of safeguarding, the new and improved BandSafe Toolkit is designed to be completed online and offers suggested guidance and resources for each stage of the process.
Having a safeguarding policy in place is a legal requirement for all bands, regardless of whether children play in the band or not. To support bands in this area, BBE are continuing to make a version of this self-assessment toolkit free to access, so that all bands can meet this legal requirement.
A set of improved and revised accompanying resources and guidance documents can also be accessed via the BBE website, including several useful templates and ideas for developing an effective safeguarding policy.
BandSafe Training and Workbook
The next round of BandSafe training courses will take place online on Thursday 4 November and Saturday 13 November, as well as in-person in Leeds on Sunday 5 December.
A new-look BandSafe workbook accompanies the BandSafe training and will be available to BandSafe trainees who attend the course. Those who currently hold BandSafe accreditation can contact BBE Safeguarding Officer Sam Fisher at [email protected] to request the new workbook.
BandSafe compliant? Let people know
All BandSafe compliant bands will soon be able to display a new 'BandSafe Compliant' badge on their website and social media pages, in order to let their supporters know that they take safeguarding seriously. This will also now appear automatically on bands' profile pages in BBE's 'Find a Band' directory, so that prospective new players can see that your band is "band safe."
Check and Challenge Tool
Brass Bands England and the NSPCC have begun work on the development of a Check & Challenge tool, which will soon be available for BBE-members. The tool is aimed at those who already have an established safeguarding framework in place, and will allow organisations to continue to monitor, check and challenge their ongoing safeguarding procedures, keeping everything as efficient and effective as possible. Check and Challenge will be available to access later this year.
Accessing BandSafe
All documents referenced above can be accessed via the BandSafe page on the Brass Bands England website.
Training sessions can be booked from the BBE Events page and include a 40% discount for BBE members.