Contests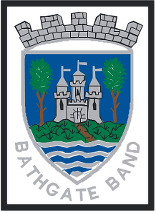 Published on November 5th, 2016
REPORT & RESULTS: Borders Entertainment Contest
Bathgate Band claimed the honours at the 16th running of the Borders Entertainment Contest, held at the Borders College in Galashiels on Saturday, 5 November.
A total of 18 bands from all over Scotland took part in the popular event with each band playing cheap nba jerseys a 15-minute entertainment programme before the experienced adjudication duo of Michael Fowles and Mareika Gray.
Under the baton of Musical Director Anne Crookston, Bathgate opened its set with Jonathan Bates' arrangement of Samuel R. Hazo's Olympiada before solo trombone Garry Kennedy performed Adrian Drover's arrangement of My Funny Valentine. The upbeat Paul Lovatt-Cooper's You've Been Warned, complete with singing, preceeded the band's finale, David Stowell's arrangement of the traditional French Canadian number The Tobique.
Bathgate Je also lifted the best percussion and bass section honours as well as the prize for best deportment.
Chris Mansfield guided Shotts St. wholesale nfl jerseys Patrick's to the 2nd Section prize with principal cornet Lynsey McIlwraith picking up the best cornet prize in the process while local bands Langholm Town claimed the cheap jerseys 3rd section prize and entertainment prize under their MD Chris Shanks and Penicuik Silver, conducted by their MD Stuart Black claimed the 4th Section prize completing the section winning line-up.
Adjudicator Michael Fowles, who also provided each band with a voice over CD of their performances, congratulated each band on its efforts during the day while encouraging some conductors to strive for more appropriate programme content to match their band's capabilities. Mareika Gray also enjoyed the long day of music-making, pointing out 22-year-old that the emphasis on good intonation should Boston remain high on the list of priorities for most of the competing bands.
Full Results:
Adjudicators: Michael Fowles and Mareika Gray
1. Bathgate (Anne Crookston)
2. Jedforest Instrumental (Phil Rosier)
3. Shotts St. Patrick's (Chris Mansfield)
4. Langholm Town (Chris Shanks)
5. cheap jerseys St. Ronan's Silver (Alan Fernie)
6. Lochgelly (Paul McKelvie OBE)
7. Renfrew Burgh (Mark Good)
8. Broxburn and Livingston (Chris Shanks)
9. Penicuik Silver (Stuart Black)
10. Annan Town (David Hamilton)
11. Hawick Saxhorn (Alan Fernie)
12. Tullis Russell Intermediate (Steven Craig)
13. Selkirk Silver (Stuart Black)
14. Newlands Concert Brass (Paul McKelvie OBE)
15. MacTaggart Scott Loanhead (Kenny Letham)
16. Irvine and Dreghorn (Helen Douthwaite)
17. Buckhaven and Methil Miners (David Neil)
18. Newmains and District (Peter Holmes)
Best Soloist: Bass Trombone:  Penicuik Silver
Best Instrumentalist: Kit Player, Jedforest Instrumental
Best Solo Cornet: Shotts St. Patrick's
Best Bass Section: Bathgate
Best Percussion: Bathgate
Best 1st Section band: Bathgate
Best 2nd Section band: Shotts St. Patrick's
Best 3rd Section band: Langholm Town
Best 4th Section band: Penicuik Silver
Highest placed Borders band: Jedforest Instrumental
Entertainment Prize: Langholm Town
Deportment Prize: Bathgate