News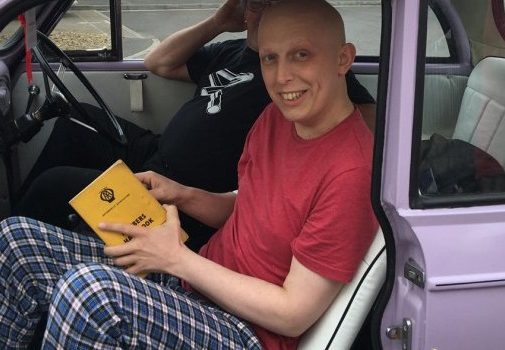 Published on April 12th, 2017
Swab For Sykes On The Hunt At Spring Festival
On Saturday 13th May Kevin Holdgate and his willing team of volunteers will be spending the day in the Winter Gardens on behalf of the Swab for Sykes campaign.
Kevin Holdgate told A4B: 'As I am sure people will know by now, this is very much a numbers game. The more people that are tested the more chance there is of finding the 'Golden Ticket' as we have come to refer to it. A perfect match for not only Stephen but literally thousands of others in the same situation as him.
I am grateful to Frank Hodges and his organizing team for allowing us to set up at the Winter Gardens and I look forward to a great day. The campaign is set to continue for as long it takes and I have received dozens of suggestions as to where we could go next so watch this space! There are so many people willing to take up the baton and run with it on behalf of Stephen, as we have seen with the areas so please keep the suggestions coming in'
The fund raising campaign to enable the purchase of the potentially life-saving drugs set up at www.gofundme.com has almost raised the initial target of £90,000, in just 16 days. As at 11th April it stood and over £85000.
The Acrobat Challenge
Running across social media is 'The Acrobat Challenge', initiated by Jayne Murrill, which has gone viral! There have been contributions and donations from trombone players across the globe, including groups such as the trombone sections of the Scots Guards through to a wonderful and inspirational group of young orphans from Africa. The response really has been staggering. It has not only been trombone players who have taken part, The Acrobat has been played on Ibis horns, bassoons, violins, saxes etc, literally every instrument group has been featured with contributions not only from the 'good and great', but from musicians of all abilities.
Kevin continues; 'The cancer that Stephen has is proving to be extremely aggressive, and Stephen has had to spend several days in hospital over the past few weeks receiving intravenous antibiotics having picked up an infection. The latest news from the medical team is a little better but we desperately need to find a suitable donor. I would urge anyone who has not yet been tested to come and see us at Blackpool.'
The donation stand will be located at the entrance to the trade stands in the Winter gardens. The process is very simple. It involves a simple cheek swab and in total it takes about 5 minutes to complete the swab and the necessary paperwork.