Contests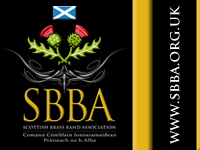 Published on May 1st, 2017
Scottish Festival of Brass 2017 Details Announced
The Scottish Brass Band Association (SBBA) has announced details ahead of the 2017 Festival of Brass which will take place at Perth Concert Hall over the last two weekends in November.
The 15th running of the Scottish Open, which sees reigning champion Whitburn going for its fourth title in a row, requires bands to select one of four test-pieces from iconic Scottish composer Peter Graham.
The choices available are Harrison's Dream, the test-piece for the 2000 National Championship Final at the Royal Albert Hall, Metropolis 1927, commissioned for the National Youth Brass Band of Great Britain (NYBBGB) in 2014, Montage which has been played at the All England Masters, the Championship Section 'Areas' and the British Open and, finally, The Essence of Time, written ahead of the 1990 European Championships held in Falkirk Town Hall. All titles are available from the Brass Band Music Shop at www.brassband.co.uk
Bands wishing to take part in the contest, which will be held on Saturday, 25 November, should contact contest controller Carrie Boax for an entry form at [email protected].
Meanwhile, the Band Supplies Scottish Challenge contest, open to bands from 1st to 4th Section, is also open for entries. This contest, won last year in Kilmarnock by England's J36 Brass under Andrew Warriner, will take place at Perth Concert Hall the previous Saturday, 18 November with bands able to make their own choice of test-piece ahead of the event. Entry forms can be obtained from contest controller Peter Fraser at [email protected].
The Scottish Youth Band Championships will take place over the weekend of 25 and 26 November and is open to all youth bands in the age groups for Preparatory Section, Novice Section, Development Section, Senior Section, Premier Section and Percussion Section. The music performed will be own-choice concert music. Further details and entry forms can be obtained from Raymond Thomson, contest controller for the event, at [email protected].