News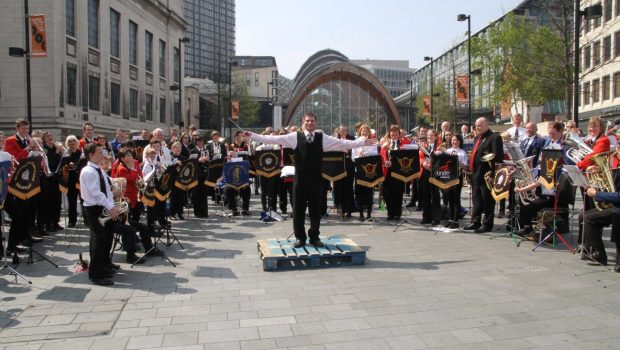 Published on May 1st, 2017
Sheffield Bands Ready For A Russian Twist
In the latest in a stream of collaborations and performance opportunities facilitated by Brass Bands England, musicians representing at least 10 local bands are expected to share centre stage this Saturday (May 6th) in Sheffield. The snooker may have finished, but Tudor Square, in the shadow of the iconic Crucible and Lyceum Theatres, will ring with the joyful sound of brass.
Following the success of last year's Brass with Beethoven,  organisers Music in the Round invited Sheffield's bands to perform  a selection of brass band favourites and star pieces with a Russian flavour, as part of the Russia in the Round festival. The music has been sponsored by Music in the Round and Pennine Music and includes favourites "Kalinka" and "The Hustle".
Last year's event was thoroughly enjoyed by very friendly and supportive audience and over 100 players, providing a colourful spectacle in the spring sunshine.The day should be great fun and all are welcome. The performance begins at 11.45 in Tudor Square.
If your band are not yet part of the day but you'd like to join in the performance, contact Rachel to register on [email protected]