Contests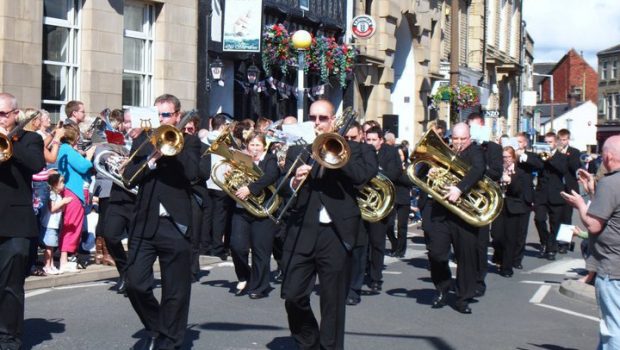 Published on July 3rd, 2017
REPORT & RESULTS: Brighouse Festival of Brass
The 18th Festival of Brass, organised by Brighouse & District Lions, featured 22 bands with some stunning playing in the Town Hall Square. Playing to a record breaking crowd basking in brilliant Brighouse sunshine Milnrow Band won the coveted title, pushed hard by runners up for the second successive year, Hammonds Saltaire, with Hepworth taking third place. Section prizes went to Marsden, Skelmanthorpe Prospect, Farnworth & Walkden and Gawthorpe '85 with Elland Youth taking the Youth prize.
This years' event was dedicated to David Horsfield who sadly passed away last October .He founded the event in 2000. The Mayor of Calderdale, Councillor Ferman Ali welcomed everyone to the event which began with a minutes silence for David.The adjudicator's were Derek Broadbent and Allan Holdsworth, both well respected members of AoBBA.
Lion Pamela Lumb thanked all concerned and especially the sponsors Kershaw's Garden Centre, Blakeley's Fish Restauraunt, Websters Insurance Services, Kirklees Music, No 43 Coffee House, Mr & Mrs Weyland Roberts and Brigitte Matthews, Calderdale Council & Kanban Crafts.
The opening event of the Festival on Saturday evening, the Gala Concert, featured  the excellent Wardle Anderson Band conducted by Sean Conway. The programme of music went down tremendously well to a packed Central Methodist Church and featured soloists Grant Taylor, Emma Conway, Millie Mills, Harry Law, Adam Warburton and Vocal Soloist Georgia Woodhead.
Next Year's Festival is Saturday 30th June & Sunday 1st July 2018
Results:
1st : Milnrow (Mark Bentham)
2nd  Hammonds Saltaire (Morgan Griffiths)
3rd: Hepworth (Leigh Baker)
Best March : Milnrow
Best Hymn : Milnrow
Principal Cornet:  Hammonds Saltaire
Best Euphonium: Milnrow
Best Soprano Cornet:  Hepworth
Best Trombone Section:  Milnrow
Best Soloist: Euphonium Milnrow
Best Basses: Hammonds Saltaire
Best Road March : Hammonds Saltaire
Best Trombones on the Road March: Hepworth
Best Deportment: Hammonds Saltaire
Best 1st Section: Marsden
Best 2nd section: Skelmanthorpe Prospect
Best 3rd Section: Farnworth & Walkden
Best 4th Section: Gawthorpe '85
Best Unregistered Band: Thurlstone
Best Hymn Tune (section 4): Gawthorpe '85
Best Youth band: Elland Silver Youth
2nd Youth band: Bradford Youth
Best Youth Soloist:  Cornet, Elland Youth
Youth Deportment: Elland Silver Youth
Youngest Player: Max Creese (Hebden Bridge)