News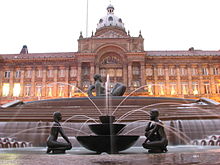 Published on July 11th, 2017
New Birmingham Band to Launch With Media Exposure
Birmingham is launching a new non-contesting brass band for brass and percussion players across the city in October and they are set to appear on Freeview, Sky and Virgin in their inaugural season in the city.
Birmingham New Millennium (Metropole) Brass Band, launching under the project title of Birmingham Metro Brass, will appear on The Lowdown Birmingham, a nightly magazine show on Made In Birmingham television in the West Midlands.
The band's launch coincides with a dazzling year in the city including the opening of the new Birmingham Conservatoire building, the appointment of the first West Midlands Mayor, the CBSO's first ever female Music Director taking over the reins and the city's exciting 2022 Commonwealth Games bid.
The city is also the proud host of the prestigious annual British Open Brass Band Championships. The new brass band is supported by Birmingham Polish Club at Polish Millennium House in the heart of Birmingham centre.
Founder and Musical Director Iain Masson told A4B: "It's been a very busy first month or so organising a new brass band which has always been a dream for me, something I've always wanted to do, and quite a year for the city. We're on Tuesday nights, based right next to the Selfridges building in Polish Millennium House, 7.30-9.30pm. A dream location, and people can get to us easily by foot, tram, bus, train, taxi or cycling with the best and most ideal transport connections of any band in a European major city. We are bringing real brass banding into the city centre."
Iain, who is an Honorary Member of Birmingham Conservatoire, hopes that a full band can be assembled in time for television crews to start filming.
The band's House Manager Ewa Kadziolka will support him in the setting up of the band. She said: "It is very excited to have an amazing thing like a brass band based here at Polish Millennium House bringing people together through playing music. It's great for Birmingham."
The Band is open to all ages of players, grade 5+. Players who are rusty and want to regain their playing skills are welcome to 'sit in' rehearsals and more experienced players can help coach them back to confidence in exchange for free membership. New ensembles and training opportunities will be launched in 2018 for city workers and their families. The band is a collaborative new band with visiting artists, composers, arrangers, comperes, conductors involved, with an emphasis on outreach and collaboration.
Iain continued: "Our city, with a population of over a million people, has seen over 25 of our local brass bands with Birmingham in the title wiped out across history, and barely a mention of brass bands in our local press even once in over a century, hardly ever a share or a retweet from the institutions in support. A dog's dinner really, with good positive bits mixed in. It will be up to us as the real local people to help change this over the next decade and century and much of the future will have to be created independently from scratch, ourselves. The TV showcase is such an exciting thing and we will be starting filming very soon. We urge everyone to take part."
The band will enjoy access to two rehearsal halls, a bar, stage area, Polish restaurant and one of Europe's most vibrant and eclectic cities on its doorstep. The band will launch on Tuesday 10th October, 7.30-9.30pm with a free rehearsal at Polish Millennium House, B5 5PH with post-rehearsal drinks and social. Rehearsals across the year will be on Tuesday nights and membership will be by player subscription with bursaries for percussionists.
Iain, who dislocated his shoulder in an accident two years ago, is leading rehearsals and concerts but will be supported by visiting conductors for parts of the year. The band will announce its 2018 concert prospectus shortly.
"We hold the key to the future of brass bands as ordinary people and it's a beautiful responsibility to have. Let's move things forward, play great music, get better at what we do, connect things up and move things forward. A long and thrilling journey lies ahead!"
An application form can be obtained from Iain Masson at [email protected] or from the Birmingham New Millennium (Metropole) Brass Band website at www.birminghammetrobrass.co.uk/application-form.
Players are urged to enrol before 15th August to guarantee a seat in the launch rehearsal. Conductors, composers, arrangers, guest performers, creatives, volunteers and collaborators are also encouraged to get in touch.