Contests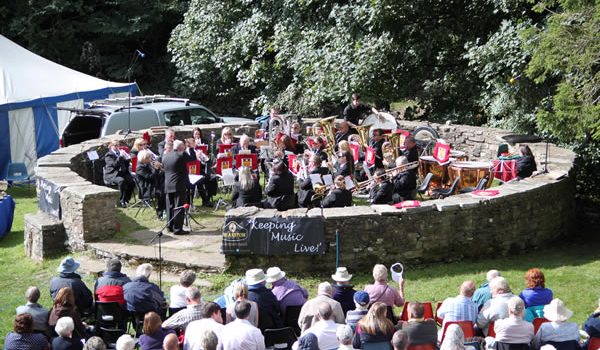 Published on September 12th, 2017
REPORT & RESULTS: Hardraw Scar Festival
Last Sunday saw the annual Hardraw Scar Brass Band festival take place once again in the magnificent setting of Wensleydale.
This year, the breath-taking dales backdrop was somewhat obscured by some inclement weather which forced the contest to take place under the cover of a tent for the first time in over a decade. However, the frequent showers did nothing to deter the audience who travelled from far and wide to be richly entertained by the 12 competing bands. The event is organised by the Yorkshire and Humberside Brass Band Association with the generous support of the local Theakstons Brewery who ensured excellent refreshment for players and audience was always in supply.
The bands programmes were scrutinised by the expert ear of Mareika Gray who noted that the best bands had quickly adapted to the balance and dynamic requirements of the venue. In Section B (3rd and 4th Section and Ungraded Bands) the prizes for the best March and Hymn went to Ferryhill, while Leyburn scooped the prizes for best solo, March by an ungraded band and best bass section.
The overall placings saw Tingley Band in 3rd place, winning the award for the best 4th section band. Ferryhill came second while local band Leyburn took the Section B crown under the baton of Rebecca Lundberg.
In Section A, Old Hall Brass performed the best March while J36 Brass won the prize for best hymn. The solo prize was awarded to J36 for a lovely rendition of the flugel horn solo Pater Noster which was performed with the added pressure of having the composer, Section B winning conductor Rebecca Lundberg, in the audience!
In the overall competition Harrogate were awarded 3rd place and also the prize for the most entertaining programme, unanimously decided upon by Katherine Bradshaw and Ed Hathaway from the UniBrass organising committee.  Old Hall Brass were placed second while J36 Brass under the baton of Andrew Warriner were crowned Section A Champions on their first visit to the contest.
The contest will return to the foot of the famous Hardraw Force again on the 9th of September 2018 when it is very much hoped that the more usual sunshine will once again bless the event.
Full Results:-
Section A
1. J36 Brass
2. Old Hall Brass
3. Harrogate Band
4. Tintwistle Band
5. Valley Brass (Haydock)
Best Solo: J36 Brass
Best Hymn: J36 Brass
Best March: Old Hall Brass
Most Entertaining Programme: Harrogate Band
Section B
1. Leyburn Band
2. Ferryhill Town Band
3. Tingley
4. Coleshill Youth
5. Shepherd Group Concert Brass
6. Knaresborough Silver
7. Sale Brass
Best Solo: Leyburn Band
Best Hymn: Ferryhill Town Band
Best March: Ferryhill Town Band
Best Basses: Leyburn Band
Best March by Unregistered Band: Leyburn Band
Best 4th Section Band: Tingley