News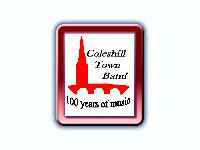 Published on September 19th, 2017
Fountain of Youth Runs Deep for Coleshill
Sunday 10th September saw Coleshill Youth Brass make the 150 mile journey to North Yorkshire to compete in the annual Hardraw Scar contest in Hawes, set alongside the beautiful Hardraw Force waterfall.
The event saw twelve bands from across the country competing. The weather should have been kinder with it being early September, however the weather gods made other plans; the heavens opened all day meaning that the beautifully polished bandsmen's shoes and neatly pressed trousers were now soggy, damp and muddy.  Even the marquee that had been assembled to deal with such eventualities ended up as a squelchy quagmire by the massed-band finale at the end of the day. It was also markedly cold for the time of year. Adjudicator Marieka Gray in her summing up, thanked the gentleman who had been providing her with hot water bottles throughout!
Despite the somewhat hostile weather conditions, Coleshill Youth Brass performed their set of music enthusiastically, their extra Summer rehearsals had really paid off. The choice of music was themed by MD Stephen Fagg, to contain a theme of the times of the day: Contest Day (March), Morning Mood from Peer Gynt, Tea for Two, Sweet Sunset, Evening Song (the Day thou Gavest – Hymn) & A Hard Day's Night.
The day then finished with a massed band finale in the marquee and the results. Coleshill Youth Brass came fourth, winning a cash prize and a trophy which was an excellent result considering that they were the only Youth Band there competing against adult bands.  They also fielded the four youngest players on the day, who won £25.00 each from the organisers.
With cuts in musical education making the headlines nationally, isn't it encouraging to know that youngsters in Coleshill and the surrounding areas have access to musical education and inspiring cultural activities such as this?