News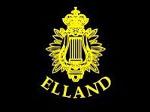 Published on November 27th, 2017
Elland Band Announce Death of Sylvia Graucob MBE
It is with much sadness that the Elland Band report the passing of their band president and friend, Mrs Sylvia Graucob MBE.
Sylvia passed away peacefully at her home in Jersey on Monday 6th November after a long and fulfilled life. Sylvia has been a loyal supporter of the band for some 25 years and was appointed President in 1992. During this time, the band has received sponsorship from the Finderman Trust, set up in her name. Her generosity has supported the band's annual Slow Melody and Quartet Contest and running of the band. She was incredibly proud of the organisations achievements. In 2005, the band enjoyed a short tour of Jersey and performed a short concert in the grounds of Sylvia's home.
A spokesperson for the band told A4B: 'In June this year we were fortunate to welcome her to our annual youth sections concert and presentation evening. Sylvia was thrilled to hear and see so many of our young musicians enjoying their music.
She also sponsors the bands Annual Christmas Cracker Concerts. Sylvia wanted to provide a FREE concert to the people of Elland. This event has become so popular that a matinee and evening show are now given by the musicians of the Elland Silver Band.'
A memorial service will take place on Thursday 30th November at All Saints Church, Elland at 1.30pm.
This year's annual Christmas Cracker Concerts will be held on Saturday 2nd December, All Saints Church, Elland 3.00pm and 7.00pm. The concerts will be dedicated to Sylvia.
Our thoughts are with Sylvia's friends and family at this sad time.