Contests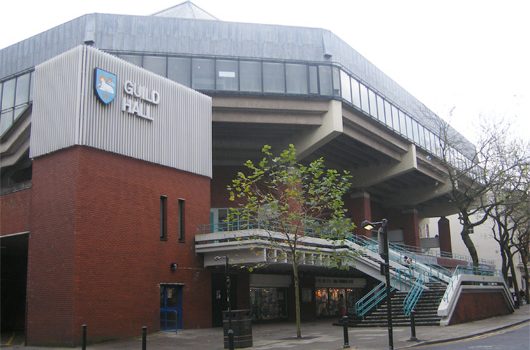 Published on January 12th, 2018
Bands Line up For Brass At The Guild
Lancashire Contests are delighted to announce the list of competing bands and adjudicators for Brass at the Guild, which will take place at The Guild Hall, Preston on Sunday 28th January.
The competing bands in Championship through to Section 4 will have the opportunity to showcase either their set work for the forthcoming Area contests or the Butlins Mineworkers Championship with the day supported by R. Banks & Son (Funerals Ltd) and its proprietor Brian Halliwell, a life long bandsman and supporter of the banding movement.
The six sections will feature forty senior bands and six youth ensembles will compete in the various sections at Preston's Guild Hall on attracted by the prospect of giving the forthcoming Area set-works a litmus-test outing, or reprising the works used at the Butlins Championship. The youth bands will present 20 minute entertainment sets.
Seven bands will compete in the Championship Section trying to catch the ear of adjudicator Paul Andrews with the additional prize of an invitation to the highest placed band not already qualified, to compete at the Spring Festival Senior Trophy contest in Blackpool in May.
Six competitors line-up in the First Section as they contemplate tackling either 'Brass Metamorphosis' or 'Renaissance' whilst the Charter Theatre will play host to choosing between a classic piece of Ralph Vaughan-Williams with 'Variations for Brass Band', or something more contemporary with Jonathan Bates' 'Ex Terra Lucem' has tickled the fancy of eight Second Section rivals.
The action starts though in the Guild Hall , with thirteen Third Section bands tackling either Napoleon on the Alps, by Philip Harper or the Overture to 'Henry V' by Ralph Vaughan-Williams.
The day's contesting starts in the Charter Theatre at 10.30am with the six bands in the Fourth Section testing themselves on either Rodney Newton's 'World Tour' or the Butlins own-choice work.
In addition to the senior bands testing their early season form, six keen as mustard youth ensembles will also look to claim the prestigious British Open Youth at the Guild Hall title by presenting their 20-minute programmes in a bid to catch the ear of adjudicators John Doyle and Helen Varley.
There are generous prizes on offer in each section as well as the prospect of entry to the first rung of the British Open ladder, whilst the youth bands will compete for their own prestigious British Open title.
Lancashire Contests looks forward to welcoming old and new friends to Preston on what is always an enjoyable day in the contesting year.
The list of competing bands is as follows:
Championship Section
The Guild Hall
Adjudicator: Paul Andrews
Test Pieces: Odyssey (Norbury) or Contest Music (Heaton), The Year of the Dragon (Sparke), Concerto No 1 (Venables)
Prizes: £400, £200, £150
Appropriate highest placed band invited to compete at Senior Trophy at Spring Festival
Start: 4.00pm approx
1. City of Bradford (Lee Skipsey)
2. Hammonds Saltaire (Morgan Griffiths)
3. Hatfield (Stan Lippeatt)
4. Longridge (Mark Peacock)
5. Milnrow (Christopher Binns)
6. Newstead Brass (TBA)
7. Thoresby Colliery (Ian McElligott)
First Section:
The Guild Hall
Adjudicator: Paul Andrews
Test Pieces: Brass Metamorphosis (Curnow) or Renaissance (Graham)
Prizes: £400, £200, £150
Start: 2.00pm approx
1. Blackburn & Darwen (Tariq Ahmed)
2. Boarshurst Silver (James Garlick)
3. Haslingden & Helmshore (Simon Cowen)
4. Johnstone (Martyn Ramsay)
5. Lindley (Robert Westacott)
6. Oldham (Lees) (John Collins)
Second Section:
Charter Theatre
Adjudicator: Thomas Wyss
Test Pieces: Ex Terra Lucem (Bates) or Variations for Brass Band (Vaughan Williams)
Prizes: £400, £200, £150
Start: 4.00pm approx
1. Bakewell Silver (Jim Henson)
2. BD1 (Lee Skipsey)
3. Blackpool Brass (John Pearson)
4. Farnworth & Walkden (Luke Pallister)
5. Flixton (Ian Brownbill)
6. Haydock (Mark Quinn)
7. Hazel Grove (Nigel Beasley)
8. Slaithwaite (Ryan Watkins)
Third Section:
The Guild Hall
Adjudicator: Chris King
Test Pieces: Napoleon on the Alps (Harper) or Overture to Henry V (Vaughan Williams)
Prizes: £400, £200, £150
Start: 10.00am approx
1. Allerton Brass (Adam Taylor)
2. Audley Brass (Tom Hancock)
3. City of Chester (Ewan Easton)
4. Dobcross Silver (Grenville Moore)
5. Eccleston Brass (John Wood)
6. Golbourne Brass (Matthew Shaw)
7. Greenalls (Phil Boardman)
8. Huddrsfield & Ripponden Brass (Adam Bell)
9. Oughtibridge Brass (Gavin Somerset)
10. Pilling Jubilee Silver (Steve Hartley)
11. Skelmersdale (James Hall)
12. Thornton Cleveleys (Stephen Craig)
13. Littleborough (Adrian Woodhead)
Fourth Section:
Charter Theatre
Adjudicator: John Doyle
Test Pieces: World Tour (Rodney Newton) or Second Suite in F (Gustav Holst)
Prizes: £400, £200, £150
Start: 10.30am
1. Blackley (Adrian Smith)
2. BMP Europe Goodshaw (Alan Seymour)
3. Brindle (Keith Richmond)
4. Lostock Hall Memorial (Joshua Hughes)
5. Rode Hall Silver (Nigel Butler)
6. Stacksteads (Fred Bowker)
The British Open Youth at the Guild Festival:
The Charter Theatre
Adjudicators: John Doyle & Helen Varley
Prizes: £400, £200, £150
Start: 12.30pm approx
1. Enderby Youth (Trevor Hounsome)
2. Macclesfield Youth Brass (Louise Renshaw)
3. Oldham Music Centre (Jonathan Leesdale)
4. Poynton Youth (Mike Eccles)
5. St Helens Youth Brass (James Hall)
6. Youth Brass 2000 (Chris Jeans)