News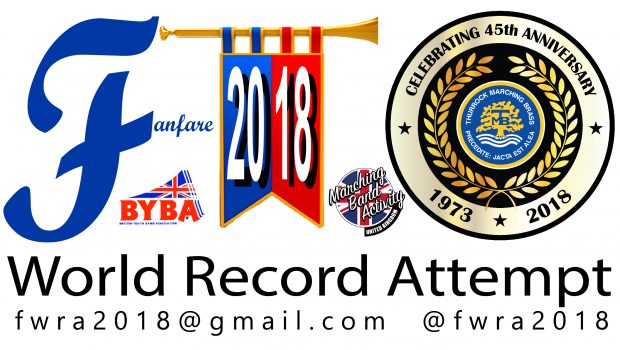 Published on January 12th, 2018
World Record Attempt Announced
Thurrock Marching Brass in conjunction with Marching Band Activity United Kingdom is proud to confirm that they be organising a World Record for the longest fanfare line in History during 2018.
For this attempt we have teamed up with the British Youth Band Association who has graciously allowed us to perform the attempt at their prestigious National Championships in October 2018. This will be held in Worcester on either Saturday 6 or Sunday 7 October, which will be confirmed once fixture lists have been released in July 2018.
This official notice is an open invitation to anyone in the United Kingdom to take part. It is hoped that 150 or more valved trumpet, cornet and bass brass players from across the United Kingdom and from every type organisation will take part. The current World Record stands at 146 players.
Speaking of the attempt, Thurrock Marching Brass Chairman, Paul Morgan told A4B: "The ability for all marching band people to get along with each other regardless of where they come from or who they may or may not be affiliated with remains incredibly strong in the United Kingdom. This can be evidenced by the great work that has done in creating the independent Marching Band Activity United Kingdom. Now in its fifth year it has undoubtedly created a common area for all of us who are interested in banding of all types to share positive information and stories about what we are all doing. 2018 also signifies an impressive milestone that is closer to my own heart and one that has touched hundreds and possibly thousands of people over the years in a positive way.
Thurrock Marching Brass celebrates its 45th anniversary which is an incredible achievement. I myself joined the band in February 1975 and stayed with it until 1989 and I can honestly say that it has shaped me as an individual. We will be reporting on the anniversary separately but I am hoping that we can reach out not only to the general banding world but specifically to the many alumni out there of TMB. This effort will be dedicated to all the many people who have played a part both on and off the field in the band, corps and colourguards over the years. Reaching out into this amazing world, we are thrilled to be creating something for everyone not only to get involved with, but also, if we achieve the goal, to be telling their grandkids about for years to come. John Butler is an incredibly hard working individual and I have enjoyed working with him to create this opportunity for everyone to get involved.
Lastly I would like to extend my sincere thanks to Paul Cartwright and everyone at the British Youth Band Association for allowing the attempt to be staged at their 2018 National Championships. The whole National Championships look set to being a spectacular event and I would encourage everyone to go see what the talented youngsters can do for yourself. Finally, I would urge everyone to register their interest and let's see just how many we can get into the fanfare line to not only break, but to smash the existing record!"
Adding, Marching Band Activity United Kingdom told A4B: "To be involved in helping bring all types of marching band together has been the greatest thrill. We couldn't have imagined just how strong the desire actually is for people from all types of bands to share their good news really is. Now in our fifth year we have celebrated thousands of good news stories and assisted hundreds of bands of all types and styles by giving them a common platform to share their good news. We are absolutely delighted to be working alongside Paul Morgan at Thurrock Marching Brass, and to attempt the World Record at the British Youth Band Association National Championships just adds to the occasion even more. This attempt is open to anyone, young or old, and as long as you can play a valved trumpet, cornet or a bass brass instrument you will be considered, so please register your interest as soon as possible to avoid disappointment. This is one not to miss out on!"
For more information on how you can get involved contact us on [email protected] or simply follow us on Twitter @fwra2018 if you just want to see what's happening.