News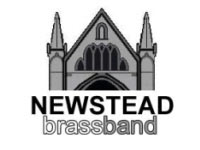 Published on January 26th, 2018
Newstead Changes Ahead of Odyssey Assault
Newstead brass are pleased to confirm changes in the band as they prepare for the coming contest season.
The experienced conductor Jim Davies comes in to lead the band for Brass at the Guild and the Midland Championships allowing regular MD John Davis to concentrate on preparing reigning Midlands first section champions Foresters Brass for the defence of their title.
Dan Cheadle will return on principal euphonium once James Emberley completes his commitments to Newstead at Brass at the Guild.
Dan originally played for Newstead at the turn of the century and has gone on to develop his skills and experience with a number of bands across the Midlands and North West Areas including Derwent, Gresley Colliery, Ratby and Cooperative Funeral Care North West.
Newstead are also strengthened by the arrivals of Nick MacDonald and Bob Mercer on cornet, following on from Martyn Carlisle (EEb Bass) and Kevin Parkin (bass trombone) who joined the band in Autumn 2017. All four make their contest debut with the band at Preston.
A band spokesman told A4B: "We're delighted to have secured the services of Jim Davies and are enjoying working with him on Odyssey and hope our musical relationship will continue beyond this.
We're also pleased to welcome the return of Dan on euphonium where he'll lead a young and talented section into what we hope will be an exciting time for the band. Our projects for the coming year include a new work for band and massed choirs commissioned for this summer's International Byron Festival."