News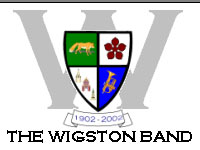 Published on January 26th, 2018
Wigston Secures Sponsorship Deal
The Wigston Band is proud to announce a new sponsorship deal with funeral directors G.Seller & Co. Ltd.
After attending a number of concerts, the company's director contacted the band regarding sponsorship. This new partnership will make a massive difference to the bands ability to coach youngsters and provide better opportunities for all members of the organisation.
Joseph Barsby, Director at G. Seller & Co. and Winners of the 2017 Leicester Mercury Business Award for Contribution to the Community is a personal friend of Musical Director Chris Small and with an office in Glen Parva serving the community of Leicester, jumped at the opportunity to offer his support.
Joseph told A4B: "Music is a great medium and provides great joy and entertainment and there is something truly special about a brass band. For generations, brass bands have been at the very heart of communities across Britain and we are thrilled to be able to help out the Wigston Brass Band as they prepare for their 2018 calendar of events.
This is a community band that embraces players of all abilities and there is a clear fit with the values and traditions of our firm. I am delighted to be able to support the band and look forward to hearing them play in the near future."
Chris Small, band MD, told A4B: "This partnership is extremely exciting and the organisation are really looking forward to the opportunities that it will open up for both players and for people within the local community. This is a hugely exciting time to be part of this hard working organsiation and we're hugely grateful to Joseph and his team for their support."