Contests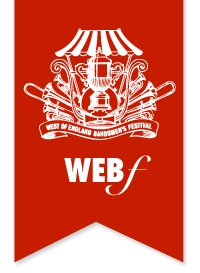 Published on June 21st, 2018
REPORT & RESULTS: West of England Bandsman's Festival 2018
Indifferent weather at the start of the open air Festival did not marr the traditional March through the village, nor the start of the competitive Sections on the Contest Field by the competing Bands at the West of England Bandsmen's Festival at Bugle on Saturday 16th June.
The usual large audience gathered for the seven different Sections, which culminated in St Dennis, conducted by Darren Hawken, winning the Royal Trophy, presented to the Festival in 1913 by the Prince of Wales, Duke of Cornwall, in the Championship Section. Verwood Concert Brass from Dorset gained Second place with the lively Spijkerpakkenband (Blue Denim Jeans Suits Band) from the northern Dutch province of Friesland coming third.
Sadly there was just one entrant in both the First and Second Sections, but in the Third Section Bugle Silver, celebrating their 150th Anniversary this year, took first place for the Second year running. Regular visitors from Devon, Okehampton Excelsior Silver won the Fourth Section as well as taking the Deportment Prize for the march down.
Excellent Youth and Training Sections led to St Austell Youth and Soundhouse Brass Juniors winning through, with Adjudicator Mark Wilkinson praising the commitment and enthusiasm of the young players, as well as that of all the musicians on the day, particularly the Soloists.
Full Results:-
Championship Section:
Test Piece: Isaiah 40 (Robert Redhead)
1. St Dennis (Darren Hawken) — 195
2. Verwood Concert Brass (Kevin Smith) — 194
3. Spijkerpakkenband (Erik Janssen) — 191
4. SW Comms (Chris Spreadbury) — 190
5. St Austell (Howard Evans) — 188
March:
Jubilee (Paul Drury)
1. St Dennis — 194
2. Verwood Concert Brass — 193
3. Spijkerpakkenband — 191
4. SW Comms — 190
5. St Austell — 188
Best Player: Andrew Stark (Cornet) SW Comms
First Section:
Test Piece: Symphony of Marches (Gilbert Vinter)
1. Bodmin Town (John Maines) — 194
Hymn:
Guardian of My Soul
1. Bodmin Town — 192
Best Player: Andrew Rowe (euphonium)
Second Section:
Test Piece: Fire in the Blood (Paul Lovatt-Cooper)
1. Camborne Junior Contesting (Alan Pope) — 193
Hymn:
Salutation
1. Camborne Junior Contesting — 189
Best Player: Aaron Thomas (cornet)
Third Section:
Test piece: The Haslemere Suite (Peter Graham)
1. Bugle Silver (Steve Osborne) — 191
2. Redruth Town (James Burns) — 190
3. Indian Queens (Mark Arnold) — 189
Best Player: Nigel Hoskin (soprano) — Indian Queens
Fourth Section:
Test piece: A Circus Suite (Stuart Johnson)
1. Okehampton Excelsior Silver (Robert Julian) — 188
2. Lostwithiel Town (Norman Pendrey) — 186
Best Player Lauren Oliver (horn) — Okehampton Excelsior Silver
Youth Section:
Own choice test piece
1. St Austell Youth (Anna Minear) — 190
2. St Dennis Youth (Rachel Sargent) — 187
Best Player: Jenna Congdon (euphonium) — St Austell
Best Cornet Player: Grace Thomas (St Austell)
Winning Conductor: Anna Minear (St Austell)
Training Section:
Own Choice (no longer than 10 minutes)
1. Soundhouse Brass Juniors (Neil Mitchell) — 184
2. St Minver (Barbara Gaeorge) — 181
3. Lostwithiel Training (Susan Berryman) — 179
4. Bodmin Training (Emma Jackson) — 178
Best Player: Ruby Wills (percussion) — St Minver
Best Cornet Player: Charlotte Blaikie (Soundhouse Brass Juniors)
Deportment:
1. Okehampton Excelsior Silver
2. Bugle Silver
Special Awards:
Best Soprano: Dirk Vincken (Spijkerpakkenband)
Best Solo Cornet: Andy Stark (SW Comms)
Best Euphonium: Les Pearse (SW Comms)
Best Horn: Francesca Bazeley (St Dennis)
Best Set of Basses: St Dennis
AR Trudgian Youth Awards:
Grace Denford (Bodmin)
Matthew Opie (Bodmin)