Contests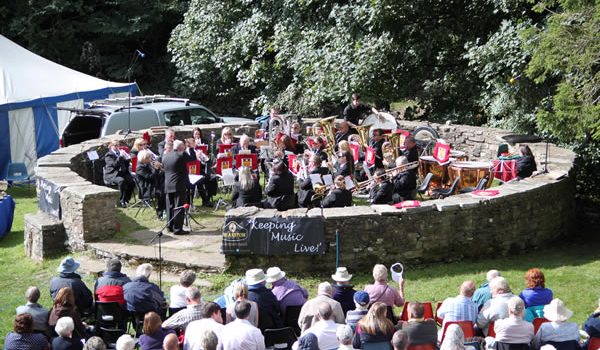 Published on September 11th, 2018
REPORT & RESULTS: Hardraw Scar Brass Band Festival
Sunday's Hardraw scar brass band festival once again delighted a hardy audience in a very autumnal Wensleydale.
While none of the programmes featured anything from Vivaldi, it may well have been appropriate given the presence of all four seasons throughout the day. Not that this perturbed the enthusiastic audience who braved the odd passing shower to let 12 bands entertain them throughout the day in the gorge below the famous waterfall. Adjudicator, Martin Heartfield discovered a new definition of open adjudication as he expertly tamed his scores and remarks in the brisk Yorkshire winds.
The contest is organised by the Yorkshire and Humberside Brass Band Association with sponsorship from the local Theakson brewery whose representative Barry Gibb was on hand to present the prizes. Section B – for ungraded, fourth and third section bands, was won by Leyburn Band under the baton of Rebecca Lundberg.
Leyburn also secured the prize for best March, best basses and best hymn within Section B. The best soloist award was taken by Otley Band's, Malcolm Sexton with a stunning rendition of the cornet solo Body and Soul.  Section B also provided the winner of the entertainment prize with entertainment adjudicators Alan Seymour and Peter Coles particularly enjoying the performance of Shepherd Group Concert Brass. Shepherd's performance also gave them 3rd place in Section B with Shirland Welfare gaining the 2nd spot on the podium.
In Section A which is for 2nd 1st and Championship Section Bands, Tintwistle took the prize for best hymn and solo while Wardle Anderson Brass secured the prize for the best March. In the overall competition, Ferryhill placed in third with Tintwistle taking the runners up spot, leaving Wardle Anderson Brass and their musical director, Sean Conway to celebrate victory on their first visit to the contest. All that was left was for the departing bands and audience to enjoy the spectacular Wensleydale fells as they finally revealed themselves in the early evening sunshine.
Overall Results:-
Section A
1. Wardle Anderson Brass
2. Tintwistle
3. Ferryhill
Section B
1. Leyburn
2. Shirland Welfare
3. Shepherd Group Concert Brass