Contests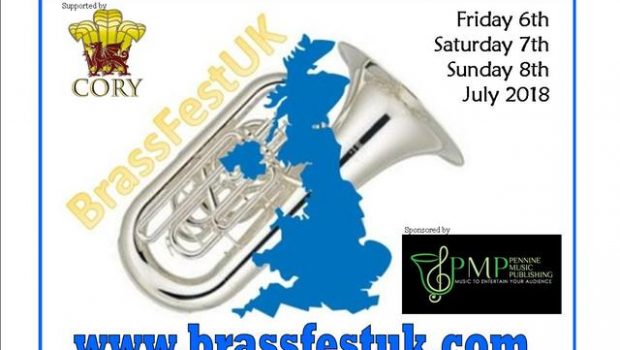 Published on October 26th, 2018
RESULTS: BrassFestUK Entertainment Contest 2018
A contest with a difference; the BrassFestUK Entertainment Contest has been held for the first time and the results have been announced. Bands' programmes were recorded and sent to adjudicator, Alan Duguid.
This was the first year of the BrassFestUK Entertainment Contest, and the organisers would like to thank their sponsor, Pennine Music for their very generous prize for each section winner.
Thanks also to Alan Duguid who very kindly took on the task of adjudicating the participating bands. The organisers would also like to thank Samantha Harrison and Jayne Murrill who were both part of the initial adjudicating team, but with so few entries, they kindly offered to stand down and leave Alan to look after the contest for this year.
Alan told A4B: 'It was a real pleasure to adjudicate this contest and I applaud you for taking such a progressive and innovative approach. All the bands produced recordings that showed them off extremely well and this made the experience as a listener an extremely enjoyable one. It is a real pity that the number of entries was not larger as this format I feel has a lot to offer bands – being able to record a rehearsal or a live performance and submit it avoids the challenges of registration or getting the players together to travel for a competition. I hope that more bands decide to participate in the future.
Results:-
There were three sections to cover all levels of unregistered bands.
Development Bands:- All players have been playing for less than 2 years
Youth Bands: All players under 19 years old
Training Bands: All other unregistered bands
Development Section:-
1st place and a £50 Pennine Music Voucher:- Middleton Training Band
Youth Section:-
1st place and a £50 Pennine Music Voucher:- Youth Brass 2000
Training Band Section:-
1st place and a £50 Pennine Music Voucher:- Newbridge Celynen
A special mention from the adjudicator goes to the soloists from the bands, the percussionist from Youth Brass (The Tongs and the Bones), the Flugel Horn from Middleton Youth (Under the Boardwalk), Euphonium from Middleton Youth (You Raise me Up).