News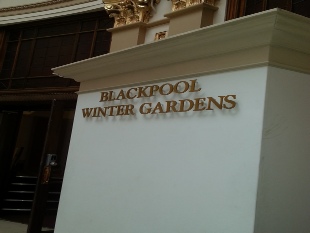 Published on October 31st, 2018
Spring Festival 2019 Test Pieces Announced
The organisers of the British Open Championship are pleased to announce the test-pieces to be performed by competing bands at the 2019 Spring Festival to be held at Blackpool's Winter Gardens on Saturday 18th May.
Thierry Deleruyelle's 'Fraternity' will test competitors in the Grand Shield, with Paul Huber's 'Symphonic Music' set for the Senior Cup. Gilbert Vinter's 'Triumphant Rhapsody' is the challenge in the Senior Trophy.
'Fraternity' was commissioned as the set-work for the 2016 European Championship and was subsequently received with widespread acclaim.  It was subsequently used as the set-work for the 2017 British Open Championship and has been performed extensively throughout the banding world.
Inspired by the tragic circumstances of a 1906 mining disaster in Douai in France that claimed over 1,000 lives, it's written in an open, tonal fashion – eschewing the trend for high-energy injections of volume and speed for more considered pacing and texture, subtly scored balances and lengthened lyrical lines.
'Symphonic Music' was commissioned as the set-work for the 1979 European Championship held at the Royal Albert Hall.
A powerful, romantic symphonic study (approx 10 minutes in duration) of scholarly rigour, its tonal language and sense of increasing drama is allied to moments of reflection and elegance.
Paul Huber (1918 – 2001) was born in Kirchberg in Switzerland and studied under Willy Burkhard and Nadia Boulanger.  He was the highly respected Director of Music at St Gallen's Classical School, wrote several operas, a number of Mass settings, a renowned Requiem and several symphonic works.
Gilbert Vinter's' 'Triumphant Rhapsody' was the fourth of his major works, and was commissioned as the set-work for the 1965 National Championship of Great Britain. It has since been used throughout the banding world both as a popular set-work and own-choice selection.
Based on the exploration of major and minor second intervals (it was originally to be titled, 'A Matter of Seconds') it remains a hugely inventive, free thinking composition, despite its formal composition structure.
Vinter (1909-1969) is regarded as one of the most inventive composers for the brass band medium – his works representing a seismic change in style and outlook. His untimely death in 1969 robbed the movement of a source of creativity that remains fresh and inventive to this day.
Publication details:
Grand Shield:
Fraternity – Available Here
Senior Cup:
Symphonic Music – Available Here
Senior Trophy:
Triumphant Rhapsody – Available Here
The interest from bands wishing to gain entry to the British Open qualifying contests remains as popular as ever, with the highest placed band (not already invited) in the Championship Section at the Brass at the Guild, Bolsover Festival of Brass, Wychavon Festival of Brass, Welsh Open and the Fife Charities contests earning an invitation to compete in the Senior Trophy.
Details of the start times, prizes, the competing bands, adjudicators, venues and ticket information will be announced in due course.