News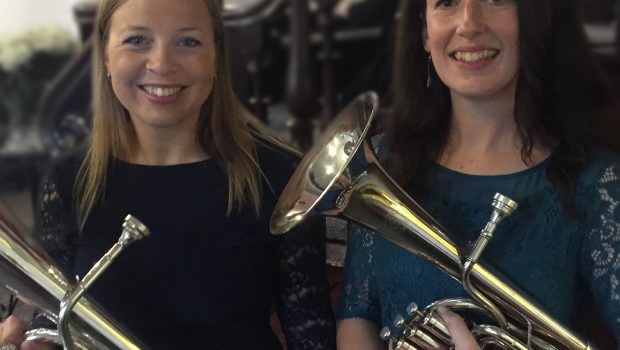 Published on December 16th, 2018
Saxhorn Festival to Return in 2019
Following the hugely successful inaugural 'Saxhorn Fest' event earlier this year the details have been announced for the return event, with lots of exciting new features, including separate youth workshops, and an evening recital featuring baritone star Michael Cavanagh.
The 2019 festival will take place on SATURDAY 2nd FEBRUARY 2019 and will be held in the beautiful market town of Richmond, North Yorkshire.  Once again the event will be run by founders Katrina Marzella (solo baritone, Black Dyke Band) and Helen Varley (solo horn, Grimethorpe Colliery Band).
The day-long festival will be an inclusive day of fun filled activities aimed at all ages and abilities, and will include:
WORKSHOPS: between 10:30am – 4:30pm at the fabulous facilities of the British Army bandroom at Catterick Garrison, including separate workshops aimed specifically at younger delegates.
JAZZ SET: between 4:30pm – 5:30pm featuring jazz tenor horn player Nat Martin of the Fodens Band with his jazz band in the new feature for upcoming stars "And Introducing ….Nat Martin".
EVENING RECITAL: between 7pm – 8:30pm at St Mary's Church in Richmond, featuring:
Michael Cavanagh (Grimethorpe Colliery Band, A4 Brass Quartet), currently one of the UK's leading baritone stars;
Festival founders Katrina Marzella (Black Dyke Band) and Helen Varley (Grimethorpe Colliery Band);
An All-Star Quartet ensemble premiering new tenor/baritone horn compositions.
Katrina told A4B "We were absolutely staggered with the success of last year's event and we're really excited to be building on our strong foundations with even more ambitious developments this year."
Helen added "We're also really excited to be able to be able to start bringing in some fabulous talent this year, and it will be great to feature Michael Cavanagh and Nat Martin.  We are really thankful to be supported this year by Band Supplies, Besson and Yamaha, which has allowed us the freedom to make this year's event even better."
TICKETS
The event is open to all tenor horn and baritone players of any age or ability.
Places are limited so quick booking is recommended (and could also be the perfect Christmas gift from Santa…) Tickets for the full day are between £15 – £20 (concessions for students in full time education, disabled persons and military personnel), which is a bargain for a whole day's festival, and also includes lunch.  There are also a limited number of tickets available for observers (e.g. for parents) and for the evening recital alone.
For further details of the event email [email protected], or book tickets online at www.neromusicpress.com/ourshop.