News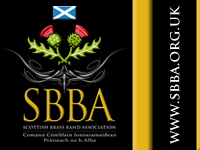 Published on December 27th, 2018
Young Composers Called by SBBA
Details have been announced ahead of SBBA's 3rd annual Young Scottish Composers competition.
Young Scottish composers, up to the age of 23, are invited to submit an original piece for brass soloist with full brass band accompaniment. The choice of instrument for the soloist must be from a brass band i.e. cornet, tenor/flugel horn, euphonium/baritone, trombone or bass.
The scores should be submitted in PDF format along with an MP3 recording.
A panel of judges will choose the top 3 compositions, with prizes of £1000.00 (1st), £500.00 (2nd) and £250.00 (3rd), with the winning piece being premiered at the NYBBS summer concert in July 2019. The venue for the concert will be confirmed at a later date. The winning composers will also be offered mentor sessions with well-known Scottish composers.
The closing date for entries is 1 March 2019. For an application form and further details, please contact SBBA Education Officer John Boax at [email protected] or by calling 07966 486088.