News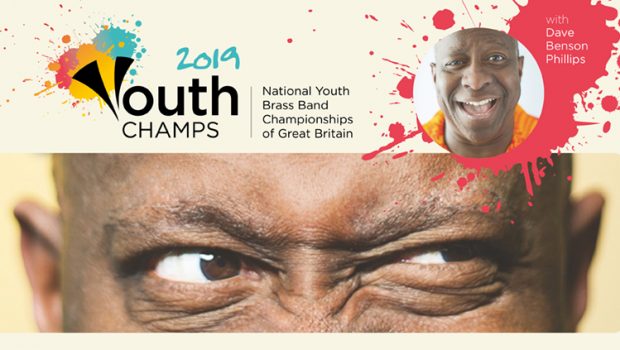 Published on March 28th, 2019
Dave Benson Phillips to Crank it up at Youth Championships
Brass Bands England (BBE) has announced that Dave Benson Phillips, recognisable to children of all ages as the host of Get Your Own Back on BBC TV, will be appearing throughout this weekend's National Youth Brass Band Championships of Great Britain at Warwick School.
Children across the UK have enjoyed being entertained by Dave Benson Phillips for almost 30 years, during which has become one of the most popular children's presenters on television. He first appeared in Playbus, which later became Playdays, a programme that ran successfully for six years. This led to Dave being given his own show by the BBC, the phenomenally popular BAFTA-nominated Get Your Own Back, of which there have been 14 series. He was given another major series in 1996, this time for ITV, called Disney's Wake Up in The Wild Room, which was aired every Saturday morning for nearly two years. Dave is also very well known for starring in the best-selling Fun Song Factory video series, which was televised for ITV. He has also presented numerous other television programmes including the CITV series Petswap, co-presented by Fearne Cotton, Nick Jnr for Nickelodeon and Words and Pictures and Go For It for BBC Education.
Dave will be one of the compères at the Youth Champs, at which he will be in charge of proceedings in the Bridge House Theatre where the Intermediate and Debut sections will take place. He will also be appearing in the Warwick Hall during the Elementary and Championships sections. Sharing the role with Dave will be David Hayward, well-known to brass band audiences throughout the UK, who will be the main compère in the Warwick Hall.
BBE Partnership and Development Manager, Alex Parker, told A4B: "I can't wait to see the energy and enthusiasm that Dave Benson Phillips will bring to the UK's flagship youth event. We want everyone to have a really fun-packed day performing and listening to top-quality brass band music and we are sure that Dave's effervescent personality will make that all the more enjoyable!"
Tickets for this Saturday's (30th) Youth Champs are available online at http://www.bbe.org.uk or on the day at Warwick School.