News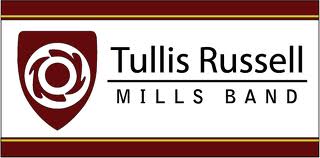 Published on April 17th, 2019
Top Team at Tullis Leads Next Centenary
2019 marks the centenary year for The Tullis Russell Mills Band and in addition to reflecting upon the last 100 years with a busy series of celebratory concerts, premieres and a CD release, Tullis is also looking to the future.  Further strengthening its team, the band welcomes Ray Munday as Resident MD and has awarded John Wallace the position of Conductor Emmeritus.
Both are already working closely together, taking the band forward.  In looking ahead, Geert Jan Kroon has also been appointed 'Composer in Residence' for this centenary year, bringing a fresh voice to Tullis.
This coming year will celebrate the band's historic century through an eclectic mix of music-making, performed at a plethora of special concerts throughout the year, including a 'Superband Grand Reunion Concert' on 16 November at the Fringe of Gold Festival, St Andrews, conducted by special guest conductor/composer Lanarkshire-born Peter Graham, and bringing together James Gourlay and others who began their musical careers in Tullis.
The programme will also feature a new piece by Peter Graham, written to celebrate the Tullis Centenary in memory of his uncle, Tommy Stewart, who was a stalwart of the band and a great exponent of the solo euphonium for many years.
The concert programmes will entwine music from significant events of the band's past with up to the minute compositions including music by Michael Nyman, a UK premiere of Geert Jan Kroon's 'Soaring the Skies' and a world premiere of his 'One Night, One Tale' – a horn solo which will feature the band's 17 year old Samuel Duzinkewycz – further highlighting the band's renowned tradition and commitment to nurturing and training young brass players in the Fife area.
The celebratory year is also encapsulated through a comprehensive Centenary Booklet which tracks its history from Sir David Russell's visionary founding of the original works band in March 1919 through to modern day, and the Tullis organisation's dedication in supporting 4 bands which cater for all playing abilities.  To finish the history trail, the band has also used this year to offer its own legacy for the future with a new CD recording – The Unfinished Symphony – A Centenary Celebration which compiles a collection of works which have marked significant steps in the band's auspicious history.
With such a schedule of events and projects to mark the last 100 years, the new Top Team at Tullis is set for an exciting time ahead in helping to lead the band's dedicated members through its next centenary.