News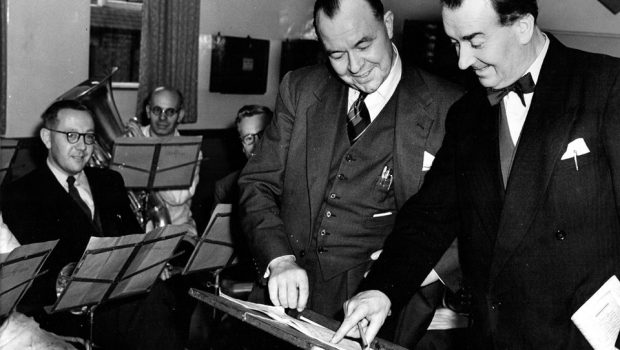 Published on April 25th, 2019
The 'GUS' Band Revert to Their Heritage Name
Midlands Albert Hall qualifiers Virtuosi GUS has become 'The GUS Band' in a move that accentuates its most famous moniker.
Commenting on the name change, band Chairman, Dave Elliot-Smith told A4B:, "Throughout its history the band's name has reflected the contributions of a host of generous sponsors; however, during the last few years the band has not been in receipt of any sponsorship and so retaining 'Virtuosi' has become misleading."
Dave went on to explain that in retaining GUS, the band recognises the most famous name in its history and covers variations on a theme, such as 'The G.U.S. (Footwear) Band' and 'G.U.S. (Kettering)'.
"Essentially, we are usually identified as 'The GUS Band' and so formalising that seems consistent with our brand", Dave concluded.
In a parallel exercise, Band Archivist and cornet player, James Screaton, has been delving into the photo albums bringing a new lease of life to a couple of iconic photographs in the band's collection. Using a colouring technique, it is easy to see the impact in these examples, which date back to the period of the band's original name, Munn & Felton's.
The band is keen to expand its archive and is grateful to Tim Mutum and R. Smith & Co publishing for donating these original black and white photos to the band. James told A4B: "It is always fascinating studying our memorabilia and reminding ourselves that we are mere custodians of the band's name and heritage".
In the photo, MD Stanley Boddington, on the left, and Harry Mortimer can be seen discussing the score of the test piece "Blackfriars" three days before Mr Mortimer led the band to victory at the 1955 National Championships. One of five bands he conducted that day!
A heritage stand can usually be found at The GUS Band's concerts, with James on hand to explain a little more to interested concert-goers. The band is always delighted to hear from members of the public who may have artefacts to share.