News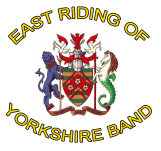 Published on June 14th, 2019
Frank Hoyland Picks Up The Baton at East Riding
The East Riding of Yorkshire band are delighted to announce the appointment of Frank Hoyland as Musical Director to take the band into the concert and contesting season.
After a few years away from conducting due to the pressures of work, Frank is very much excited and looking forward to working with us and was thrilled to accept the challenge of achieving greater things as Musical Director of the band. An accomplished Euphonium player, Frank has conducted and played with many Championship Section bands including Yorkshire Imperial Metals, Carlton Main Frickley Colliery, and British Steel Stainless Dodworth, performing at the highest level and under many distinguished conductors.
Now in a position to resume a Musical Director role Frank is eager to use all his enormous passion and enthusiasm and pass on the wealth of experience and knowledge of over 40 years of banding for the good of the East Riding of Yorkshire Band.
A spokesperson for the band told A4B: 'The band is looking forward to building on its success in the community of Hessle following its move to our own bandroom in 2018, with an exciting programme of Autumn concerts in 2019 in partnership with other musical ensembles.'