News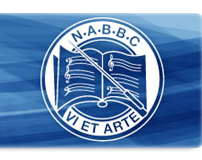 Published on June 21st, 2019
Craig McKenzie Takes 4th NABBC Competition Title
On Saturday 8th June, the National Association of Brass Band Conductors held their 4th annual Conducting Competition. Once again the competition attracted entrants from across the U.K. and Europe, with this year's winner travelling all the way from California USA.
That winner was Craig McKenzie who told A4B: "I was thrilled to be able to be a part of the phenomenal Brass Band tradition here in the UK, and a thrill to have the opportunity to conduct the wonderfully talented Rainford and Eccles Borough Bands. I was humbled and awed."
Craig had stiff competition from the 11 competitors including Norwegian Conductor Bjørn Breistein and Daniel McLaughlin who were 2nd and 3rd respectively. He will now have the opportunity to conduct Cory Band and Foden's Band in the near future, thanks to Philip Harper and Mark Wilkinson's support of the competition.
After judging alongside Mark Heron, Paul Hindmarsh told A4B: "I was delighted to be asked to judge this competition, through which the NABBC is discovering some talented UK conductors who will I'm sure be a major presence on the brass band scene in this country. It was fantastic to see an international entry, with the winner Craig MacKenzie coming over from California. He is already very experienced conducting school and college wind bands. I hope that the growing brass band community in the USA makes use of his well honed skills and musicianship."
Finally, NABBC President Russell Gray thanked Yamaha for their support for the event and added: "I was delighted with how smoothly the competition ran.My team at NABBC did a superb job. Both bands gave every contender a wonderful platform to show their skills. The international appeal this competition has and the fact that we have conductors re-applying each year tells me we are doing something right. Look out for details of next year's competition!"
Results:
1. Craig McKenzie (USA)
2. Bjørn Breistein (Norway)
3. Daniel McLoughlin (UK)
Finalists:
Matt Green (UK)
Pascal Maillard (France)
Luke Pallister (UK)
Semi-Finalists:
Andrea Durante (Italy)
Dexter Drown (UK)
Robert Fraser (UK)
Mark Good (UK)
Patrick Marshall (UK)
Andy Wareham (UK)