News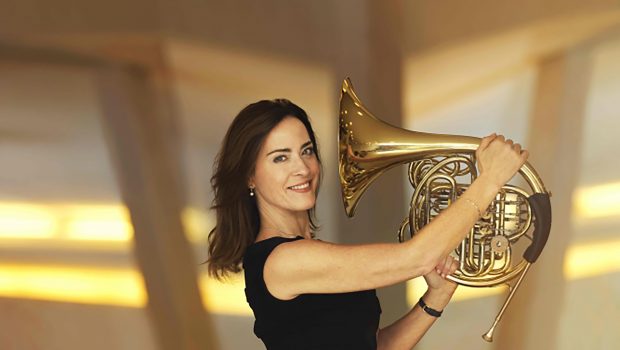 Published on June 21st, 2019
The French 'Flash Mob' in Birmingham
A 75-strong ensemble of French Horn players from Royal Birmingham Conservatoire surprised commuters at Birmingham New Street Station with a 'flash mob' performance on the main concourse at 6.15pm, Thursday 20 June.
Conducted by Royal Birmingham Conservatoire principal Julian Lloyd Webber, the musicians popped up in the UK's busiest station outside London, as part of a two-day programme led by internationally renowned musician Sarah Willis to celebrate the 'endangered' instrument.
French horn superstar Sarah Willis was announced as the first International Chair of Brass at Birmingham City University's Royal Birmingham Conservatoire in September 2018. The artist has delivered a series of one-to-one and group workshops with students, and will be leading a free public concert featuring massed horns at the Conservatoire's Bradshaw Hall from 7.30pm, Thursday  20 June.
As well as being a member of the world-renowned Berlin Philharmonic Orchestra – the first woman to join the brass section appointed by former City of Birmingham Symphony Orchestra Artistic Director Sir Simon Rattle – and an international soloist and chamber musician, Willis is passionately committed to music education and making a love of classical music accessible to all.
Sarah Willis was born in Maryland, United States and grew up in Tokyo, Boston and Moscow, before settling in London. She started playing the French horn at age 14 and later joined the Guildhall School of Music and Drama, where she studied with Anthony Halstead and Jeff Bryant. Later moving to Berlin, she studied with Fergus McWilliam.
The horn player also presents the TV programme 'Sarah's Music' for German public broadcaster Deutsche Welle and her live-streamed 'Horn Hangouts' have been viewed by countless people across the world, reaching people who may not have easy access to live concerts or teachers.
Amos Miller, Head of Brass at Royal Birmingham Conservatoire, told A4B: "This is event is partly to spread the "gospel" of the French Horn, one of classical music's most endangered instruments. Sarah is arguably the highest profile ambassador for the instrument in the world and we are thrilled to be surprising commuters at Birmingham New Street Station to showcase her work with the significant international hub of excellence for brass – including French horn – that is the Royal Birmingham Conservatoire."