Live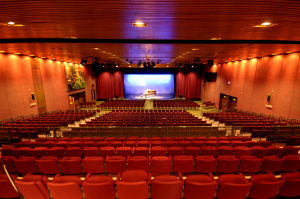 Published on March 8th, 2020
LIVE: Midlands Regional Brass Band Championships 2020 Championship Section
Thats all from Midlands Area Contest at Bedworth. Thanks for following our comments
Results:
First Prize – The People Challenge Trophy, £200 and the Regional Champions Banner – * GUS
Second Prize – The John Farrell Challenge Trophy and £125 – * Desford Colliery
Third Prize – The John Slater Shield and £100 – Ratby Co-operative
Fourth Place –  Jaguar Land Rover
* Top two bands qualify for the National Finals at the Royal Albert Hall
That concludes a great day in the Championship Section.
My prediction is:
 Desford Colliery
  GUS
  Jaguar Land Rover
  Ratby Co-operative
  Blidworth
  Enderby
Dark Horse:       Derwent Concert
Band Number 11. Hucknall and Linby MC
Brave start but unfortunately some of the clarity is lost. Starts to move at a decent tempo. Unfortunately there a few too many slips into the faster section and in the horns. It is starting to pick up a little  as we move along . Some good sounds in the full band ensemble but again there are splits . Good show soprano and a smart finish to the movement.
Unfortunately the start to movement 2 was not together. It is moving along nicely but sounds untidy. Good Euphonium solo but underneath ensemble are not always together. One of the best cadenzas of the day. well done. Stylish baritone. Good effort solo horn but intonation was an issue on your top note. Well done solo cornet. Probably one of the most secure flugels we have heard today. Some nice playing in the very quiet section with a good crescendo to the trombone solo. Trombone sounded nervous to finish.
Quite a steady start to movement 3. Not without its errors. It feels laboured and under tempo here and needs to move on. Good duet between soprano and euphonium. Basses sounds a bit muddled but it is coming through the Band. A steady ensemble sound which will need to be maintained to the end. Sounding tired now. Making a good attempt to build this up to the end. Excellent percussion again. A good finish
Overall : a good attempt and a performance they should be very proud of
Band Number 10. Enderby
A very unsteady start which soon recovered but seems considerably under tempo to many other bands. a nice gentle lead in to the faster section. This does not feel together in places and seems to be a bit of a struggle in places. This is better playing now although the music is not flowing as many others have . When the whole band are playing together there are nice sounds. controlled ending to the movement.
A good flowing start to movement 2 with some good ensemble work. Well done euphonium. Trombones nice accompniment. Good strong solo in the Baritone. Solo Horn shame about the little slip at the end but probably the best measured horn cadenza of the day so far. Good solo cornet but Flugel Horn sounds a bit nervous. Some nice quiet playing but the intonation slips as you try to play too quiet. Well done trombone to close.
A much better start to movement 3. The style is right musically and is rattling along. Well done tuned percussion. some excellent work. The band is starting to sound a little tired now with some issues with intonation and a few little splits. The tempo is still being maintained and you are driving this home. Can you sustain it to the end though ? This is quite impressive as the speed increases . Good solid sound. Unfortunately didn't quite make a perfect ending.
Overall:  Some good work and some quality soloists but just a few too many splits and mistakes
Band Number 9. Jaguar Land Rover
Controlled opening with very good muted cornets. All the detail is crystal clear at the top end. Great Basses leading into the fast section. The Band are attacking this section with some vigour. there are a couple of untidy entries but the overall Band sound is very good. Soprano cornet what a sound. All the technical inner parts are heard. a much steadier finale but very good.
A lovely flowing movement to this section started well and musically spot on. Well done solo euphonium. a little slip but a quality sound. Solo Horn very confident cadenza and executed brilliantly. Top sound principal cornet. Unfortunate slips in the small ensemble section but lovely balance.. In the very quiet movement the band still lets the music flow. a couple of slips have crept in which is a shame. Wonderful balanced last chord.
Confident start to movement 3. This is a good lively tempo which hopefully they can maintain. A little untidy in the cornets and sop before the sop melody takes over. Good work Basses underneath the duet. It could all be heard. Musically this is Avery exciting movement with lots of dynamic variation. Nigel Seaman has directed on of the most exciting and musical performances we have heard today. What a build up to the ending. Very Good
Overall: not without a few slips but a very exciting and musical performance. Could be up there !!
Band Number 8. Ratby Co-operative
Good subtle opening with some quality muted playing in the cornets. the tempo may be a bit down on some other Bands but it is working well. Lovely trombone lead into fast section and good horns. Although this movement lacks some of the drive we have heard earlier it is crystal clear and articulate. Good range of dynamic contrast. Nice sound soprano ! The ensemble sound is good but needs more bass sound in my opinion. Great finish to the movement.
Movement 2 opens a little untidily but some nice sounds (2nd Euphonium). Beautifully mellow sound to the solo euphonium in the start of the solo. Just the occasional slight intonation blip but very well played. Nice baritone sound. Well played solo horn just a little harsh for me but blemish free. Good solo cornet but as a band your intonation is suffering a little. You don't always move together in the quiet section until the volume increase and then we are back on it. lovely trombone but the last chord was not balanced
Some trips and slips to start this movement but we set off at a good pace. Good duet with cornet and euphonium. Generally the playing is better now  but some of the ensemble detail is being lost. This is much better the drive towards the ending. The percussion has been excellent throughout. Good musical push to the end with great trombones . Not overblown and a great finish.
Overall: a very good performance that will surely be around the prizes tonight. The only concern is if the slips and intonation problems have detracted from a good solid rendition
Band Number 7. Blidworth Welfare
A little unsteady at the opening with some entries not together. It is now recovering and the Band has a warm sound in the full ensemble. Still a couple of slips though. Good basses into fast section. well done horns. No slips and the band is getting tighter. Good percussion. Just getting a little untidy in the louder faster places. A solid end to the movement.
Sensitive start to the 2nd movement with some very neat and tidy ensemble playing. A huge pat on the back to the solo euphonium for one of the classiest cadenzas of the contest so far. Good baritone.Well played solo horn and solo cornet. A couple of slips evident but confident solos. Nicely played small ensemble. in the very quiet section it feels that by trying to play so quiet your intonation suffers a little. Good dynamic contrast leading to a classy trombone finish and well balanced last chord.
Not all together at the beginning of movement 3. some intonation issues. Starting to settle now with some good work by the Basses. This movement is driving nicely with some good solo playing matched by the ensemble. Good sounds from the middle of the Band  as we push for the final section. Brilliant percussion leads to an exciting if slightly muddled ending.
Overall : a good driven performance with some excellent soloists that suffered as a lot of bands have with slips and entries that are not together. Made some good sounds though
There will now be a short comfort break
Band Number 6. Desford Colliery
A great start by Desford. All the detail is crystal clear and this opening section is full of style . A great full Band sound. Very classy. Superb trombone and deep lush bass sound. Fast section, fantastic horns. Sounded as though only one was playing it was so together. The detail is exquisite and the passion you are getting out of this movement is extraordinary. Amazing work soprano even if you were so red we were worried you would explode! What a barn storming end to the movement
Sublime start to movement 2. Ensemble playing to make you melt ! Solo Euphonium so classy and so so beautifully played. Fastest trill of the day so far back row. You could hear a pin drop in the hall during that cadenza. Great baritone. Magnificent Solo Horn, played with such confidence and style. Such control in the quiet movement it took me back to the Desford days of Year of the Dragon. The dynamic contrast is stunning. Solo Trombone just Wow and what Alastair's chord.
This really is some start to the 3rd movement. Speed clarity and accuracy all laid out in this stylish performance. the music is hurtling along telling a musical story at all times with an amazing range of dynamics. The quiet bits are sublime and then an explosion of sound at the upper end. the music gets faster and more exciting as the trombones bring this performance to a stunning end.
Overall:  This stunning performance will surely take some beating . One to remember
Band Number 5. Langley
A steady start by Langley. Most of the intricate cornet work can be heard but was always together. Very delicate trombone sounds . a few unfortunate slips in the Flugel and horns but now starting to get better. This movement is growing in confidence. Well mastered sop. there just a few too many slips around the stands, but a good tempo and a good finish to this movement.
One of the best starts to the 2nd movement today. some lovely sounds here from the ensemble. Euphonium has a lovely sound but the cadenza is marred by a few slips. Good solid Baritone solo and the Solo Horn was safe and secure just seeming to run out of steam on the high note. Some very sensitive small ensemble playing. Not all entries in the quiet section are together. Top quality trombone and beautiful last chord to close the movement.
Movement 3 gets off to a fine start. It feels maybe a bit under tempo but at least the detail can be heard. This is the Bands best playing. The MD has got the band driving home with a great style of energy and enthusiasm. This is chasing towards the end. what a shame some of the clarity is lost in the last dozen bars. Good ending.
Overall:  Some great moments in this rendition and some quality soloists. Too many slips today I feel to be in contention but well done Band.
Band Number 4. Foresters Brass
Not the best start and the back row cornets are so quiet most of the detail is lost. Great sounding Basses even though there is only three of you. Good sounds Sop. Fine trombone . the faster section takes off but not without issues. Horns had a few slips which seem to spiral round the Band. At this speed it sounds as though some parts are struggling to keep pace. Some real intonation problems in cornets and sop. The movement moves along nicely to its climax. Well done Timpani.
Gentle start to movement 2. Unfortunately more slips in the horn this time cause problems. Nice Euphonium. Good on the muted cornets. Very subtle. Good confident baritone just good a little raucous by the end. Well played Solo Horn. Very Good Solo Cornet and flugel. Sadly the ensemble are not together in the very quiet section. I even heard a wrong note. The last chord was difficult for the band to sustain.
This movement is showing your best playing so far. A good contribution from the Soprano. Basses not always together on the semi-quavers. it is a shame that at the speed you are taking it means that a lot of clarity and detail are lost . Great percussion throughout. a good build up to the end but the intonation suffers somewhat.
Overall: I think this was a valiant effort on this piece which suffered from too many slips and intonation issues
Band Number 3.  Derwent Brass
This Band opened strongly with delicate cornets but again some of the clarity and detail was lost. There are a few splits coming in which at the level of this section today could cost. Trombone lead into next section was ok but splits in the horns. There is some intonation issues in the lower Band. Some of the louder moments are too loud and splits an intonation problems ensue.
Good start to movement 2. Very well played Solo Euphonium especially as yet another mobile phone went off at this point !! Some lovely control by Band. well done Baritone. A few sticky moments solo horn but a nice sound here. Maybe a bit of nerves but the Solo Cornet was not totally secure. The ensemble entries in the vey quiet section were not always together. However a nice warm sound here. Good Sop Unlucky trombone to close the movement
Secure start to this movement with some good percussion. All 5 of them !!!! Good dynamics and the music is flowing. Once again not all the detail is heard as the tempo is pushing the Band along. The Band has lifted now in the gallop for the end. This is exciting stuff. What a shame you saved your best till the end. A great finish.
Overall: Another good performance of this brilliant test piece. I just think too many splits will spoil the chance of a top six finish. But well played Band.
Band Number 2. Thoresby Colliery
Another good opening but some of the clarity in the back row cornets could not be heard. Nice sound trombone into the faster section. Good playing in the horns even though there were a couple of slips. Euphoniums sound mellow. This movement has a good drive . Well done sop. Some good Band sounds if at times a little heavy but a great close to the movement.
Again not the smoothest of entries but what a lovely ensemble sound. Luckily the band were not put off by some inconsiderate audience members mobile phone going off at maximum ring tone volume and then waiting at least 10-15 seconds before turning it off !! Great dynamics and a lovely Euphonium Solo. The horn solo was played with style and had just a couple of unfortunate blips at the end. Good solid Solo Cornet. Good Flugel I like the style. Not quite moving together in the very quiet section. Beautiful trombone to close the movement. Well done
This movement takes a few bars to truly settle but it does well. The louder sections flow well and the music has purpose and definition. Not all the quiet parts have the same drive. As the music moves on the Band seems to be growing in confidence . Great trombone sound. A bit of clarity was lost in the rush to the finish but a good exciting end.
Overall: A good performance not without the occasional lack of clarity but some great soloists
Band Number 1.  GUS
A good opening with all parts played with clarity and poise Excellent cornet sounds  played with precision. lovely trombone sound into faster section. Good horn and euphs with precise and articulate playing underneath.
Everything sounds well organised and under control . Some fantastic melodic lines while all the underneath parts are exact and in place. Bravo soprano what a super sound. The first movement comes to an exciting close.
Slightly bumpy entry to Movement 2  but boy does it recover in spades. Brilliant Euphonium with a exquisite sound especially in the high register. This movement has a feel of great musicality and space. Well played SoloHorn with quality sound and style. Very confident Solo Cornet who superbly matched the other soloists. What a super full Band sound. Great dynamics with intonation spot on especially in the muted cornets. Bravo trombone to bring this movement to a stunning conclusion.
The 3rd movement takes off from the first note aided and abetted by some exciting percussion. This movement has drive and purpose and is handled superbly. Once again Bravo soprano. This is being led expertly by Chris Jeans who managed to keep the musicality going. The band look and sound like they are enjoying this performance and so am I.
Overall: What a pacesetter this was. Definitely a contender which will take some beating.
Championship Section  Draw
        GUS
        Thoresby Colliery
        Derwent Brass
        Foresters Brass
        Langley
        Desford Colliery
        Blidworth Welfare
        Ratby Co-operative
        Jaguar Land Rover
        Enderby
        Hucknall & Linby MC.
Rushden Town.     WITHDRAWN