News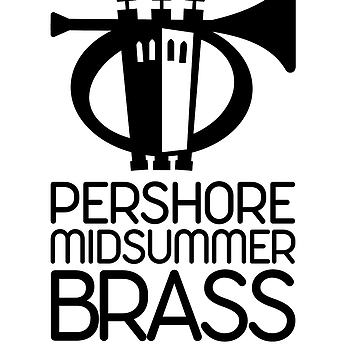 Published on July 15th, 2020
Successful Pershore Midsummer Brass
PERSHORE MIDSUMMER BRASS
This brass band festival went online this year due to the Corona virus restrictions and the event was a great success. On Saturday 4thJuly 2020 Pershore Midsummer Brass festival should have been held in Pershore as it has been annually, bringing together bands from across the Midlands and beyond, in a unique non-competitive festival of brass with as many as 4 venues around the town. This year bands provided virtual performances and footage to the organisers instead.
Due to the Coronavirus outbreak and the Government advice on Social Distancing, these band have had to cancel rehearsals, but many are holding 'virtual' rehearsals, where they all play their own individual parts and then 'mix' them together. Others provided pre-recorded footage, even recordings made by their supporters at previous performances and open rehearsals.
BANDS
A fanfare opened the day, played by Jaguar Land Rover Band alongside a welcome from John West, chairman of Pershore Midsummer Brass and Pershore Town mayor,Councillor Chris Parsons MBE. This was followed by full performances from Arrow Valley Brass, AW Parker (Drybrook) Band From the Forest of Dean, the Band of Gloucestershire Constabulary, Bretforton Silver Band, City of Coventry Brass, Jaguar Land Rover Band based in Coventry, Malvern Hills Brass Band, A reunited Perscoran Brass, Shipston Town Band and Stour Concert Brass from Shipston in South Warwickshire, Shirley Band from Solihull, SPAL Sovereign Brass from the Black Country,  Stourport on Severn Brass Band, Tewkesbury Town and Training Bands, The Langley Band from Oldbury in the West Midlands, Worcester City Brass and Worcester Concert Brass.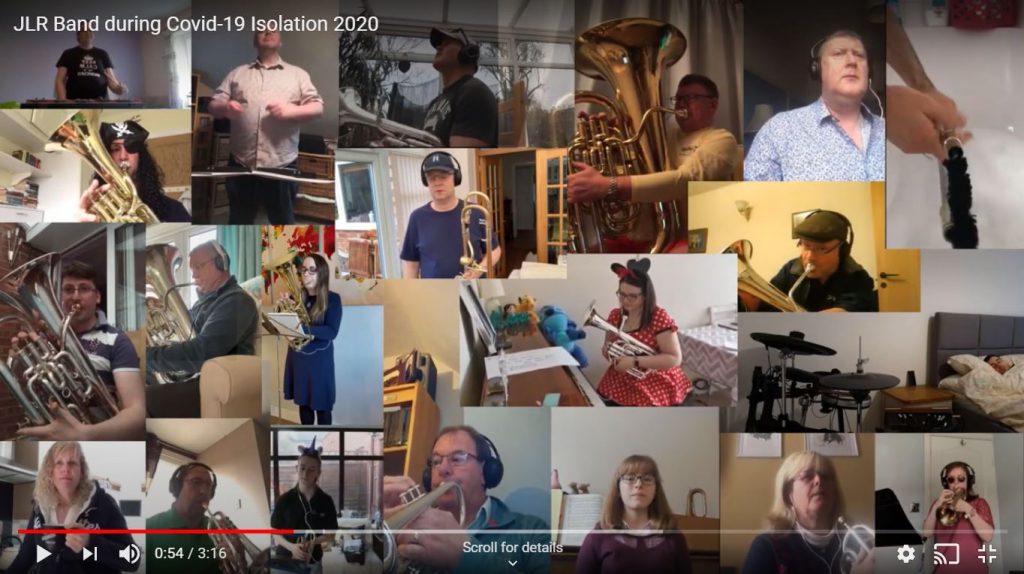 PERFORMANCES
All the bands had worked hard to gather what was required by the organisers within a tight deadline. Some fun videos from bands were recorded under lockdown conditions, where we could spot the matching wallpaper of brass-banding families, We loved the music of Worcester City Brass and spotting the silly hat's and goggles, post it notes(?) and teddies, even a dog in their videos recorded at home. Langley Band even arranged their lockdown videos on the screen in the same way they would have appeared onstage as a band as if they were facing the conductor, wearing rainbow colours to play Over The Rainbowin tribute to the NHS.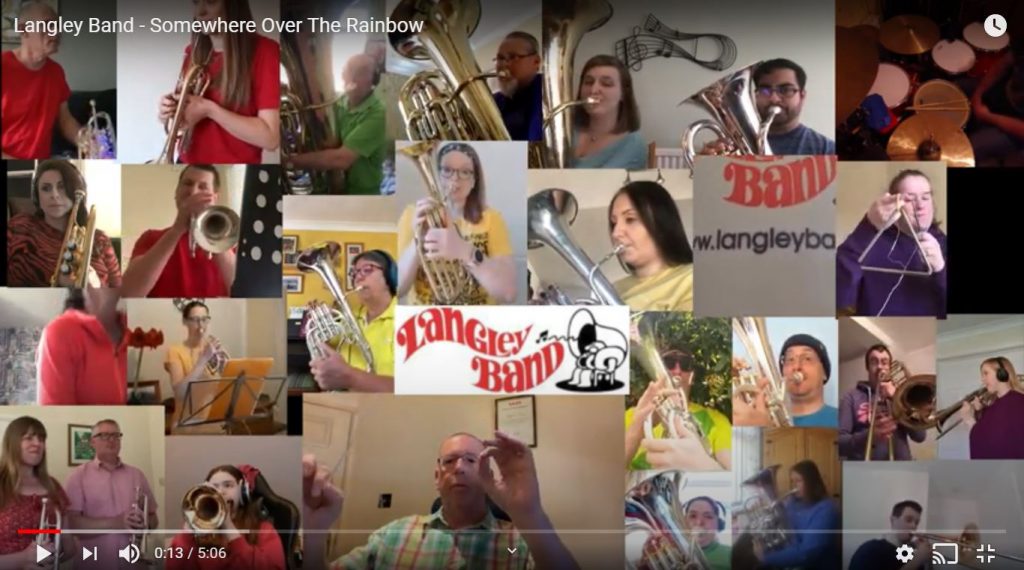 Some bands sent pre-recorded performances on existing CDs of music. AW Parker (Drybrook) Band even supplied music recorded in Pershore Abbey itself, where they would have hoped to play at Pershore Midsummer Brass. There was a further taste of Pershore Midsummer Brass with a proms concert from Stourport on Severn Band playing in a marquee similar to the one at the Angel Hotel or the Star Inn.
Tewkesbury band sent archive videos of their training band through many years, while the training band for Worcester City Band appeared in their own lockdown videos and we reminisced with the archive photographs of Perscoran Band and Bretforton Silver Band through the years. Perscoran had hoped to reunite at Pershore Midsummer Brass to perform in celebration of their founder Gordon Hartley Bennett who also began the first incarnation of the Pershore Midsummer Brass festival. Gordon Hartley-Bennett responded to their recording and photographs with the message: "Thank you for the kind tribute and wonderful memories. It would have been brilliant to see you all. Roll on PMB 2021!"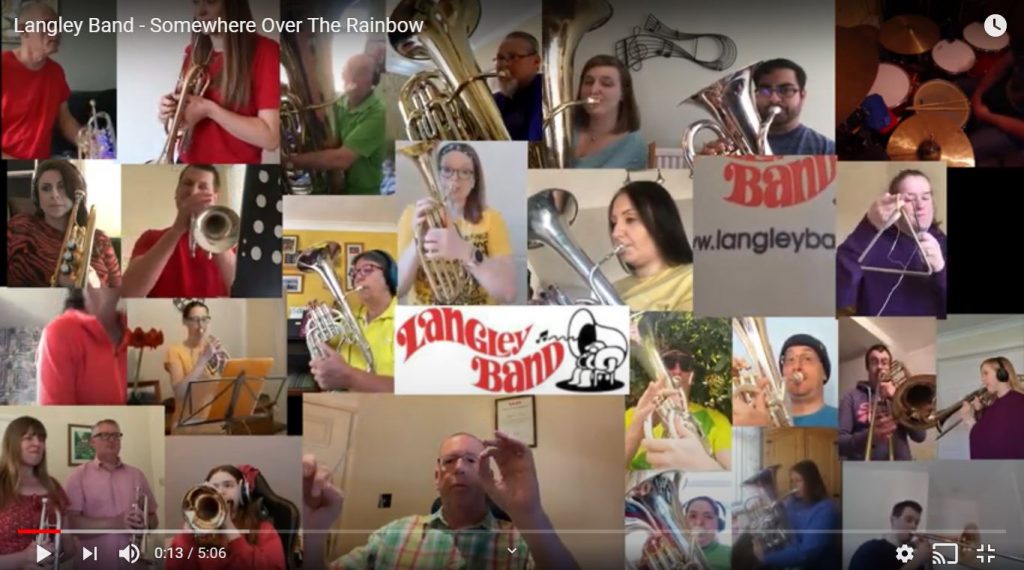 Some of the bands had managed to add an extra touch to their perfomances. Arrow Valley Brass provided a tour of Ireland recorded from a drone to accompany a celtic tune, while Jaguar Land Rover Band performed with friends on electric guitars, as an exciting addition to the normal brass band line-up.
The festival ended with a performance from Lockdown Brass, comprised of players from Worcester Concert Brass, Malvern Hills Brass Band and Malvern Chase Band who have supported each other through lockdown with quizzes and chats online. They recorded a piece by Fodens Band Principal Trombone player, John Barber, known as Song for the Frontline, in support of the NHS. Fodens Brass have more 'lock down' performances and links to their NHS charities campaign on facebook: www.facebook.com/FodensBand/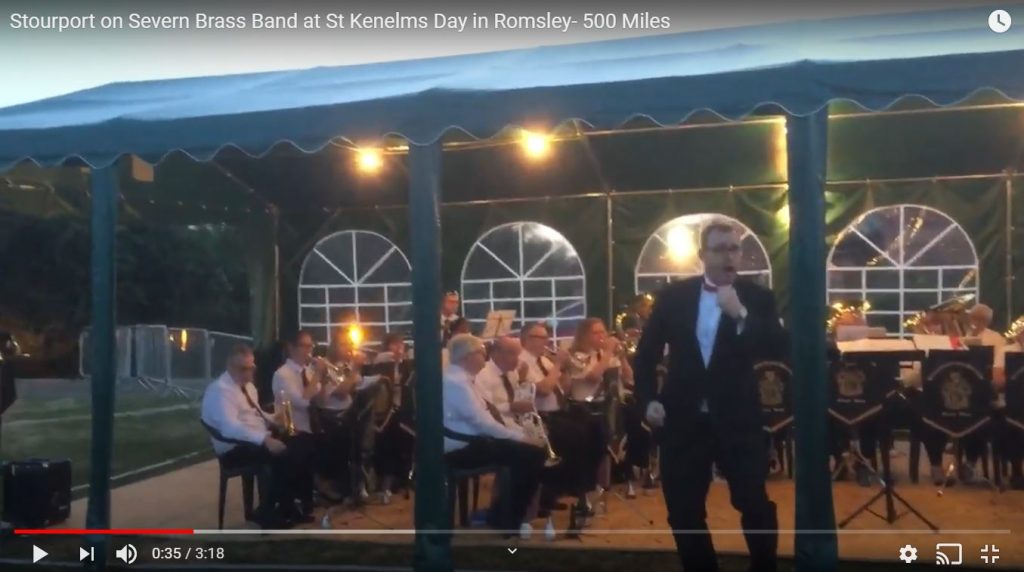 As hoped, this method of sharing Pershore Midsummer Brass reached many of those who would normally come to Pershore as well as being shared with new listeners. We had an incredible total of 5287 views over the whole weekend and many positive comments from bands and spectators alike. Despite the difficult conditions the event was a great success, and to quote Gordon Hartley Bennett commented, "Roll on 2021". It will be on 3rdJuly if you want to add it to your diary now.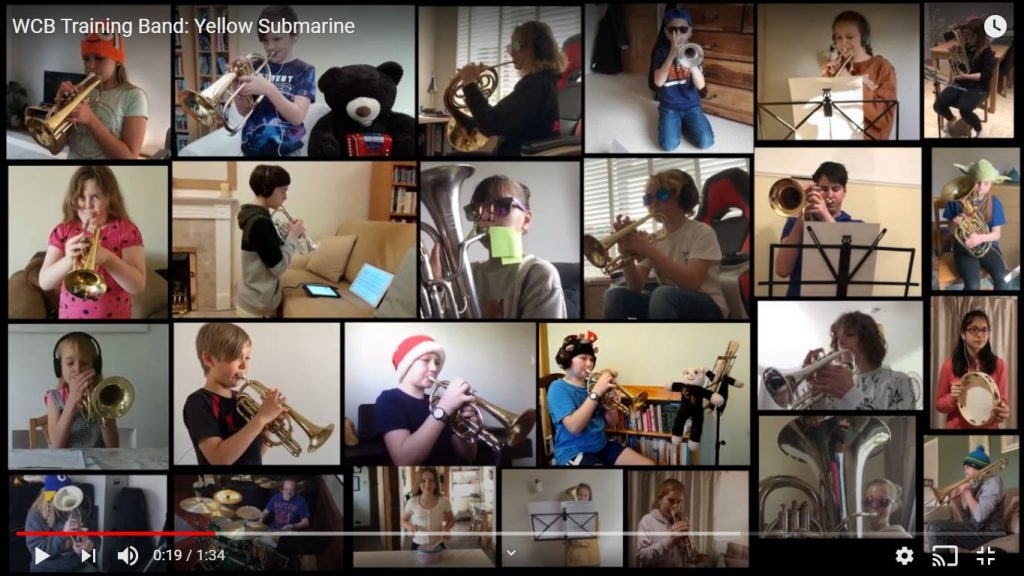 COMMENTS
From spectators, band members and committee:
Christopher Finch: What a fantastic day. Great to dip into and out of. Had it playing on the phone most of the day. Good to hear "tomorrow's players" getting involved as well. Congratulations all round.
Christine Warner: What a great day considering the restrictions. Thank you for organising it.
Gill Williams: A brilliant day. Thanks to everyone who organised and for the bands who sent in their sets. Very enjoyable…and we didn't get wet in the rain this year
Anna Coates: Loved every bit, still watching so glad we could still hear wonderful brass music, thank you all
Beth Shaw: Thank you so much for putting this together, I have had a brilliant day and loved every single performance! You guys are amazing!
Helen Walters: Thanks for organising this. Glad to see the spirit of PMB is still with us this year and it's been a great days worth of banding!
Steve Roberts: Fantastic effort today. Well done Pershore Midsummer Brass.
Dave Mynott of and Langley Band: A great day of banding
David Birch of Stour Concert Brass and Shipston Band: I have had a brilliant day listening to all the bands. Just as at a normal PMB you never know what is really going to stick in your mind afterwards. Today I was impressed with an overture by Faure played by Sovereign which I had never heard, a delightful piece composed by Jonny Bates for Tewkesbury in memory of one of their members and a terrific distance recording of The President by Shirley. Add to that the final concert by Langley and that finished off a really good day in which I feel every band entertained us well.
Katherine Newman of Malvern Chase Brass Band/Lockdown Brass: A BIG thank you to you and Chris for organising this – really enjoyed having brass music on all day!
Alan Little of Band of the Gloucestershire Constabulary: All thanks and congratulations must go to you and your Committee for organising such a fabulous showcase evidenced by so many who have viewed it in the last 24 hours. It was a privilege to be a small part of it and a lasting disappointment that we could not have participated in person.
Members of the committee agreed: their feet certainly enjoyed the day, and they managed to get chores done around the house, having not spent all day running round Pershore from Friday lunchtime to Sunday lunchtime. But they are looking forward to getting back to normal next year, fingers crossed.
THANK YOU
The committee would especially like to thank Chris and Heather License for all the technical wizardry and support. Chris is editing together the tracks supplied by the individual members of each band and will schedule the uploads every 30 minutes on the day. Once a band has 'played' the video will remain until Chris removes them at 10pm on Sunday, while Heather has certainly been integral in organising the bands.
And thank you to all the bands who have participated this year. It not only reminds us of what we do and why we do it, but also reminds the public that we are still here – it might not be in person yet, but the bands will be back.
HELP US
This performance was free for all to watch, with an opportunity to make a donation to Pershore Midsummer Brass to help run the festival this year and the next one in 2021:
www.justgiving.com/crowdfunding/pmb?utm_id=1&utm_term=K4ae5Yq24
We would welcome more volunteers to help on the day by selling tickets and programmes or stewarding or as a Performance Manager at a venue, setting up and tidying the venues, or perhaps you could contribute as a committee member helping to put together the events throughout the year. Contact us through our website:
www.pershoremidsummerbrass.org/