News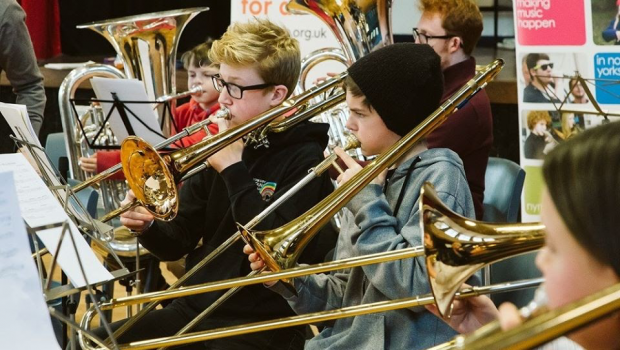 Published on August 13th, 2020
Last chance to register for youth Big Brass Day events!
Registration closes this weekend (Sunday 9th August) for the next NYMAZ Big Brass Day youth workshop.
Youth music charity NYMAZ are working with Brass Bands England (BBE) and the North Yorkshire Music Hub to put on this series of events, which are funded by Youth Music and Arts Council England. Although this programme of events was originally planned for young people in North Yorkshire, as the workshops are now online they are now open for brass and percussion players across the country who are 18 years and under, and at Grade 4 standard or above. These events are free to access for all.
Sunday 16 August, 10am-12:30pm
Work alongside David Thornton, Siobhan Bates,brass ensemble Femmes Fortissimo and composer Liz Lane to rehearse a new composition developed in consultation with our Brass Day participants.
Deadline for registration midnight Sunday 9th August.
Saturday 22 August, 10am-12:30pm
Explore the world of New Orleans influenced Jazz with New York Brass and Femmes Fortissimo as you discover new techniques for improvisation and jazz performance.
Deadline for registration midnight Sunday 16th August.
New York Brass Band are North Yorkshire's only contemporary New Orleans inspired brass band and guaranteed to provide a fun filled, exciting morning for the young people involved.
This summer's events kicked off in July with a consultation session led by Black Dyke Band Principal Tenor Horn Siobhan Bates and Jess Gillam, 20-year old Classic Brit-award winning saxophonist, where young people had the opportunity to share ideas around the theme of 'inspirational people' and 'breaking the mould'. This youth-led discussion will inform the new commission by Liz Lane due to be workshopped in one of the workshop sessions which will culminate in the young people having the opportunity to be a part of an online premiere of the new work.
Sarah Baumann, BBE's Education and Development Coordinator commented, "The young people involved in the initial consultation brought some fantastic ideas for the new piece, and I am delighted that we will be joined by David Thornton and Siobhan Bates who I know are an inspiration to a lot of the young people involved."
Potential participants who weren't part of the consultation session can read a write of the event by NYMAZ Young Ambassador Lucy Pullan. http://www.nymaz.org.uk/news/post/big-brass-consultation
To book a place on one of the above Big Brass Day events go to https://brassdayonline.eventbrite.co.uk/ or email [email protected] for more information.
About NYMAZ
NYMAZ is a youth music charity which believes that all children and young people should have access to high quality music making opportunities, no matter what their circumstances or geographic location. It delivers high-quality music-making activities across North Yorkshire and runs professional networks to support the sector. NYMAZ has particular specialisms around rural isolation and digital innovation in the delivery of music tuition through its Connect: Resound project. NYMAZ is part of the Alliance for a Musically Inclusive England.