News

Published on August 13th, 2020
RESONANCE HOSTS SUMMER MUSIC SCHOOL FOR DUDLEY SCHOOL CHILDREN
Resonance has hosted a Dudley Performing Arts summer school for local primary and secondary pupils.
Around 85 pupils from schools in the Dudley borough took part in the summer school at Resonance – the brand-new, state-of-the-art music institute in Brierley Hill.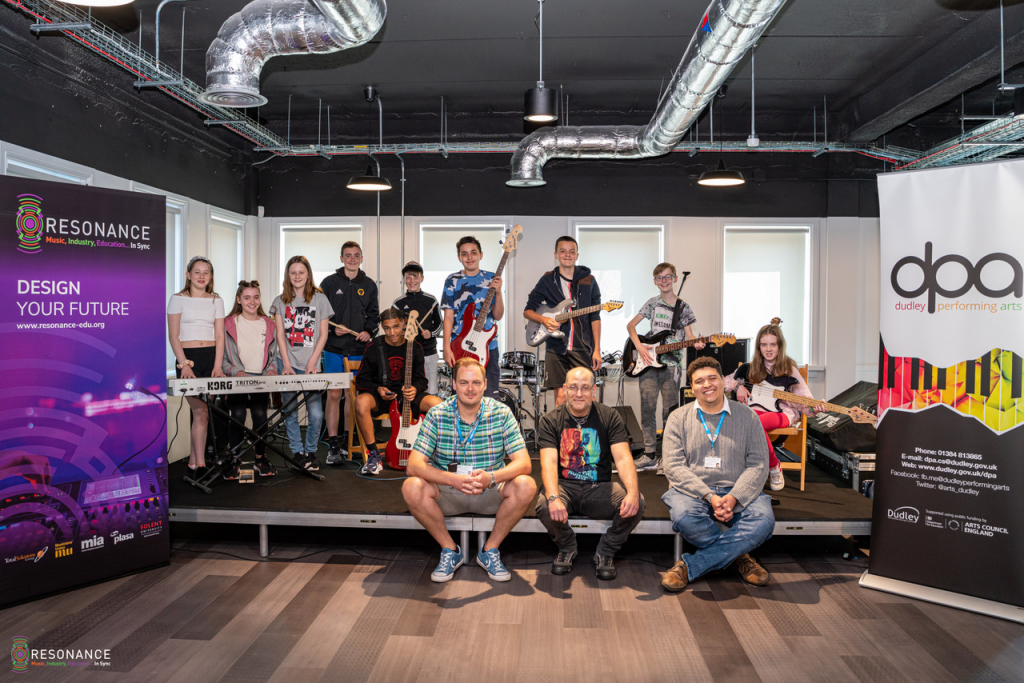 The aim was to make up for some of the schooling they had missed during the lockdown period, and to give them an extra bit of support before returning to their classrooms next term.
Groups of primary school children spent a day at a time learning African drumming and Samba, whilst a smaller group of secondary-age students were in a different part of the campus, transforming themselves into rock musicians in the space of five days.
'Rock band in a week' was the theme for the older children, who spent the first day getting to grips with the different instruments and learning the basics.
The rest of the week was spent forming a band, practising a piece and putting on a performance, which was recorded for posterity.
The sessions were run by a team from Resonance and Dudley Council's Dudley Performing Arts team, along with teaching and safeguarding staff from the local schools.
"It's been a great experience for the kids," said Rick Benton, Resonance chief executive.
"All the kit is waiting for the first cohort of students joining us at the start of the autumn term, and it was brilliant to see the younger ones so enthused by the experience of playing and recording their own music.
"Our campus is a big place and there was plenty of recording, rehearsal and practice space for the two age groups to do their own thing safely in their own space. All the instruments were sanitised for every session."
Councillor Ruth Buttery, cabinet member for children and young people, said: "We are keen to support our children, young people and their families during these unprecedented times, and our summer schemes are an important part of this.
"We want to thank Dudley Performing Arts for all of their hard work in organising the programme and ensuring that it has been such an enjoyable experience for everyone."
The one-of-a-kind institute opens to its first cohort of students next month and applications are still being taken.
Students seeking a career in the music industries have until August 31 to apply direct to Resonance and can do so at resonance-edu.org.