News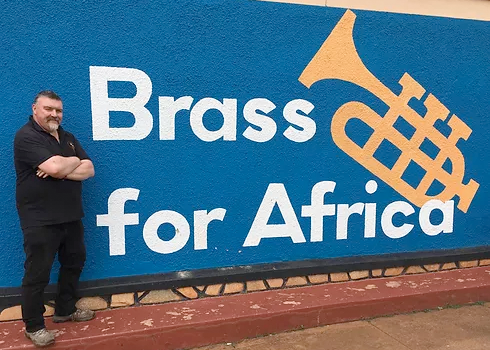 Published on October 16th, 2020
Brass For Africa, Themed Virtual Performance
Brass for Africa is the theme of two virtual performances featuring Alan Fernie's music
Young brass players from Africa and Scotland have come together to play as one in a moving tribute to the empowerment of young people from disadvantaged communities in Liberia, Rwanda and Uganda by helping them to learn valuable life skills through brass music education.
Scottish composer Alan Fernie is the musical director of Loanhead Brass Roots and Newtongrange Junior Band and also the composer in residence for Brass for Africa.
He has been the driving force behind a project to bring together young musicians from all three organisations through the virtual performance of a new composition by him entitled As One.
Alan introduces the video by saying that, despite the strange and uncertain times we are living in, we can all still play as one. He then opens up the piece with a duet between himself on trombone and a young horn player in Uganda, also called Allan (but with two LLs). View the video at https://www.youtube.com/watch?v=2AGQqfnDLAA
"I would like to thank Alice and Natalie Kane for putting the whole video together," said Alan. "They've done an absolutely brilliant job!"
The music for As Onewill be available on the Brass for Africa website https://www.brassforafrica.org/
Brass for Africa has also been on the minds of players from Newland Senior and Junior Bands. They have just posted a virtual performance of Alan Fernie's African Funkon their Facebook page.
This is their second online video which has been put together by Keven Anderson. "Thanks to Keven for his work on this recording and also to Alan Fernie for his permission to perform his music on Facebook," says euphonium player Jennifer Heenan.
If you watch closely, you can see Alan joining in the performance at https://www.facebook.com/194600341071/videos/266833261224494/